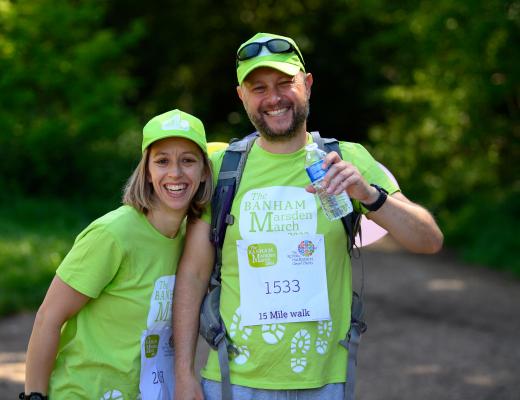 The Banham Marsden March at Home
Registration for The Banham Marsden March at Home 2023 is now open
Take part in The Banham Marsden March at Home 2023
Can't Join us in person for The Banham Marsden March this May? Don't miss out on the best day of the year!
Organise your very own Banham Marsden March and walk together with family and friends for cancer patients. Taking part is simple. Choose your route and distance, and explore the best of your local area.
Whether it's a beautiful hike or even in your back garden, this is your walk, you're in charge. Then simply invite family and friends to walk with you. Become part of a community walking throughout the UK and worldwide to raise vital funds for The Royal Marsden Cancer Charity.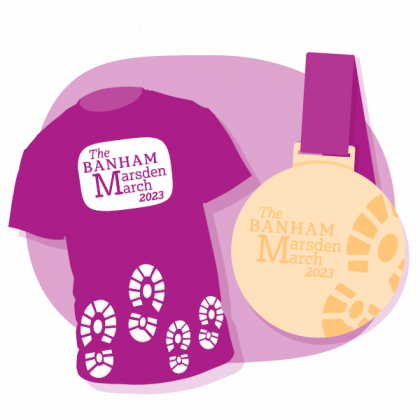 Your fundraising kit 
When you register, you will receive your free Banham Marsden March at home fundraising kit.
Your kit comes with everything you need to help you organise your walk, get family and friends involved and raise vital funds for The Royal Marsden.
You'll also get a free organic cotton Banham Marsden March t-shirt and cap to wear on the big day and we'll send you a well deserved medal once you've completed your walk.
What is The Banham Marsden March at Home?
Since 2021 The Royal Marsden Cancer Charity have offered supporters the option to get involved with The Banham Marsden March virtually by organising their very own 'Banham Marsden March at home'.
The 'at Home' option was was first launched due to COVID restrictions; we asked people to walk in their local area instead of the traditional route and were blown away with the support this event received! Now each year we are pleased to include The Banham Marsden March at Home option for all our supporters who are unable to attend the event in London. Hundreds of our supporters have since organised their own Banham Marsden Marches across the UK and abroad to support The Royal Marsden through this special event.