Meet the Marchers
There are many different reasons why our supporters decide to take part in The Banham Marsden March. For many, the day holds a deep personal significance. Among the crowd you will find current and former patients, friends, families, doctors and nurses coming together to celebrate and support the work of The Royal Marsden. 
Good Luck! 
We want to wish our all our marcher's good luck for Sunday and so do some very special friends of The Royal Marsden. 
Watch some special good luck messages from famous faces including Lorraine Kelly, Alexander Armstrong, Sian Williams and Jimmy Tarbuck. 
Good Luck for The Banham Marsden March from Lorraine Kelly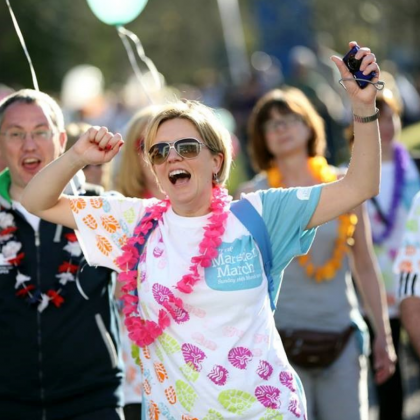 Discover inspiring stories from supporters joining us on The Banham Marsden March.
Meet Laura!
Laura and her husband took part in the very first Marsden March in 2011 while Laura was recovering from treatment for cervical cancer which she had at The Royal Marsden. Since then, they have both taken part every single year! Over a decade on from the first Banham Marsden March, the event Is still an important date for Laura and her family.  
"There is something about being together with all those former patients and current patients and their families in a way to say thank you to the Hospital."
"There are also people walking in memory of friends and family. You walk along with people and see the signs pinned to the back of people's t-shirts; it is a really moving event." - Laura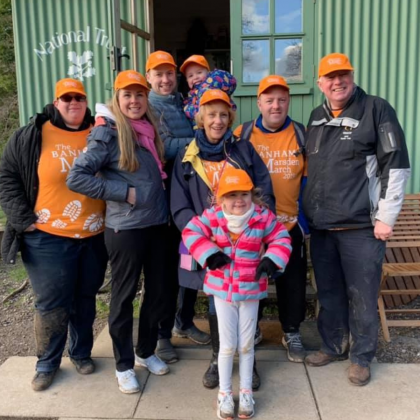 Meet Christine and her family!
For Christine and her family, taking part in The Banham Marsden March is a way of saying thank you to the hospital  and to support the funding of new cancer research and treatments. Christine, her husband Keith and her children and their Families first took part in the march in 2019 and are joining us once again on the start line this year. 
"The Royal Marsden are brilliant and thanks to their care and treatment, I'm now doing really well and can't wait to take part in The Banham Marsden March once again."
I think the March is a way we can all give back to The Royal Marsden – not just for the work they do every day, but also to help fund research and new treatments. I want to make sure other patients can benefit from The Marsden the way I have." - Christine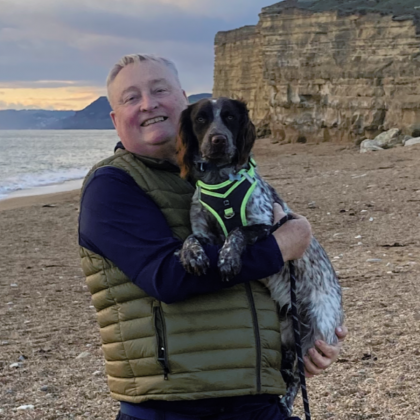 Meet Malcolm and Patch!
Malcolm, his wife Maria and their dog Patch will also be taking part in The Banham Marsden March this year. 
Malcolm's story with The Royal Marsden goes all the way back to 1982, when Malcolm took part in a Christmas tree fundraiser for the hospital whilst working for The London Fire Brigade. He never imagined that 38 years later, he would be back a patient himself on a clinical trial. Now, following his treatment at The Royal Marsden, Malcolm is in remission and fundraising once again for The Royal Marsden Cancer Charity. 
"This year will be the 40th anniversary of the Christmas tree push! I want to do anything I can to promote and support The Royal Marsden after what they did for me."  - Malcolm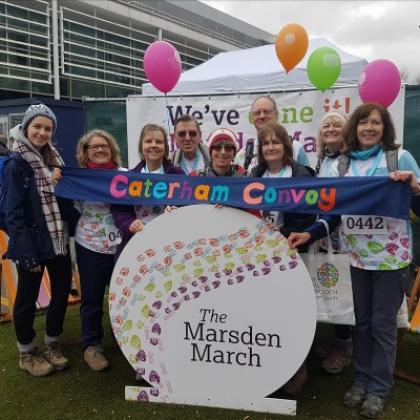 Meet Liz and the 'Caterham Convoy' team.
Liz and her friends and family are planning to walk together this year in their team, the 'Caterham Convoy, all of whom have been affected by cancer in one way or another.
For Liz, the March is very personal, not only was she a Radiotherapy Physicist at the hospital for 30 years, but in 2014, she was referred to The Royal Marsden for treatment for Ovarian Cancer. Both her parents have also been patients at The Royal Marsden too.
"It's such a good event to do for your own sense of achievement and the money raised for The Royal Marsden Cancer Charity is phenomenal. The whole atmosphere is brilliant, as is the organisation behind it, and I feel so proud to be a part of it."
The Banham Marsden March
Join us on Sunday 22 May 2022 for This Year's Banham Marsden March. Find out more and sign up for your place today.