About The Banham Marsden March
Here you will find everything you need to know to get ready for The Banham Marsden March and what you can expect on the big day!
Essentials to bring on the day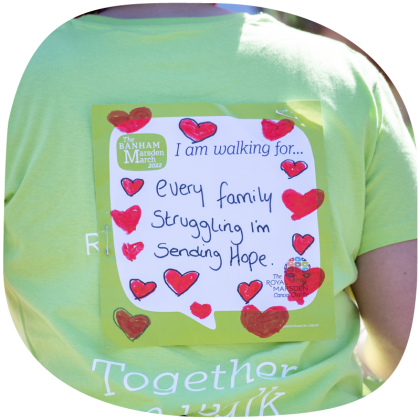 What to wear
Footwear and clothing suitable for walking. 
It is important to choose comfortable footwear and clothing appropriate for walking. We recommend comfortable trainers or walking shoes. Please remember to check the weather and make sure your clothes will keep you either warm or cool and pack waterproofs and suncream as required. 
Your Banham Marsden March 2023 t-shirt and cap.
You'll receive their t-shirt and cap in your fundraising pack. If your Banham Marsden March T-shirt doesn't fit, bring it with you on the day and you can exchange it for another size at the start line.
Your personalised back panel 
Your back panel is your personal space to share your own message about why you are walking and to inspire your fellow walkers. We encourage you to customise it and attach it to the back of your t-shirt on the day.
Fancy dress encouraged!
Many people choose to take part in The Banham Marsden March in costumes. On the day you'll see teams with brilliant costumes, accessories, and customised back panels.
On the day you must wear your walker number.
Everyone taking part in The Banham Marsden March must wear their walker number on the day. Your walker number is specific to you, so please don't swap it with others. Please ensure you complete the information on the reverse for health and safety reasons and then use the safety pins in your pack to attach it to the front of your Banham Marsden March t-shirt. 
Under 16s wristbands
All children and young people aged under 16 on the day of the event must also wear the wristband provided in their pack for safety. Using a marker pen, please fill in the parent/ guardian name and a contact telephone number.  
The Banham Marsden March Route
The full 15-mile route goes from The Royal Marsden hospital in Chelsea, through Fulham, Putney, Wimbledon and Cheam, all the way to the Royal Marsden Hospital in Sutton. The shorter, family-friendly 5-mile route follows the last five miles of the main route.
At the start line we're joined by hospital heroes to help wish you on your way. You'll hear from patients, staff and fellow marchers before setting off. The five mile route will also have a family-friendly warm up activity.  
Route maps 
On the day you'll have access to a digital map that shows your progress or a printed map you can collect at the start line, as well as volunteers along the route who will cheer and guide you.
The finish line and celebration
Both walks finish at The Royal Marsden Hospital in Sutton. When you cross the finish line you'll receive your hard-earned Banham Marsden March medal and don't forget to strike a pose for our finish line photographer!
You'll also be able to enjoy our finish line celebrations including live music, performers, children's activities, and special areas of reflection and celebration. A selection of delicious food options will also be available for you to choose from.
Our finish line celebration will end at 6:30pm.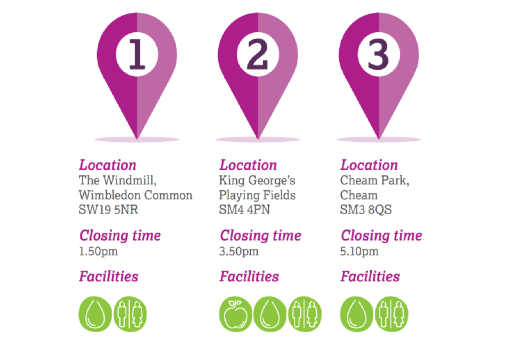 Water and food
Water will be available at various points on the route, but bringing your own water bottle is essential. Please also ensure you pack some light snacks to fuel you through those final few miles. There will also be food available to buy at Checkpoint 2, King George's Playing Fields (The 5 mile walk start), and at the finish line. 
Accessibility
The walk route is step free and accessible toilets will also be available at checkpoints on the route. If you will need assistance on the day of any kind including coach travel, please let us know by  emailing the team at [email protected].
Start times and locations
Start times
For safety reasons, we've staggered start times, so it's important that you arrive in time for the start wave you've chosen. The first wave will start at 08:30am and the following waves will start every 15 minutes until 10:30am. Each start time has limited capacity so make sure to sign up early to get your preferred start time. 
Start locations
15 mile route
The 15-mile walk start location is Dovehouse Green, King's Road, Chelsea, SW3 6NT. 
Dovehouse Green is a paved square off King's Road, around a 5-minute walk from The Royal Marsden Hospital, Chelsea.
The nearest tube stations are South Kensington and Sloane Square.  
5 mile route
Travel on the day
Public transport
If you are making your own way to the start line, make sure you check your start location, start wave time and plan your route before you set off. 
Parking
Free parking is available at the Sutton hospital site all day. Access is via Cotswold Road entrance only. No parking is available at the 15 mile start location, and limited parking may be available near the 5 mile start location. For more information please go to our FAQs.
Coaches
On the day, we offer coach transport to both the 5 and 15 mile start lines from The Royal Marsden Hospital, Sutton.
Coach tickets 
You can purchase coach tickets as part of your Banham Marsden March registration and your printed tickets will be included in your fundraising pack. Tickets for coach travel must be purchased in advance - tickets cannot be purchased on the day. You need to bring your printed coach tickets with you on the day. If you did not purchase a coach ticket when registering for the march you can still purchase one depending on availability by getting in touch with the team at [email protected]. 
Coach times
Coach tickets are time specific and not interchangeable. Please make sure you are on time for your coach on the day - we recommend arriving 15 minutes before your coach is due to leave. Unfortunately, we are not able to wait for any late arrivals.
More Questions? We have answers! 
For more information, read our Banham Marsden March FAQs or get in touch at [email protected]