Meet the Marchers
Discover inspiring stories from supporters joining us on The Banham Marsden March.
There are many different reasons why our supporters decide to take part in The Banham Marsden March. For many, the day holds a deep personal significance. Among the crowd you will find current and former patients, friends, families, doctors and nurses coming together to celebrate and support the work of The Royal Marsden.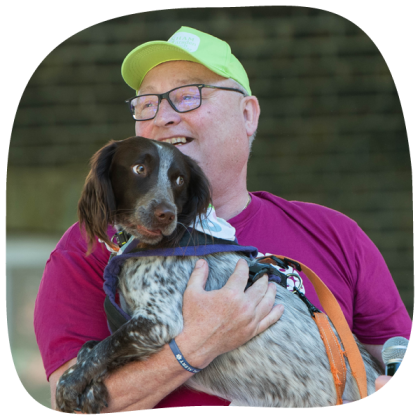 Malcolm and Patch
"When I crossed the finish line the feeling of elation was massive, and the crowd and staff from The Royal Marsden were cheering us on." 
If you took part in last year's event you may recognise Malcolm and his dog patch as Malcolm was one of our guest speakers at the 15 mile start line. Malcolm and Patch will be taking part in The Banham Marsden March again this year, which will mark 41 years since his first fundraiser for The Royal Marsden.
Malcolm's story with The Royal Marsden goes all the way back to 1982, when Malcolm took part in a fundraiser for the hospital whilst working for The London Fire Brigade. He never imagined that 38 years later, he would be back at the hospital as patient himself on a clinical trial.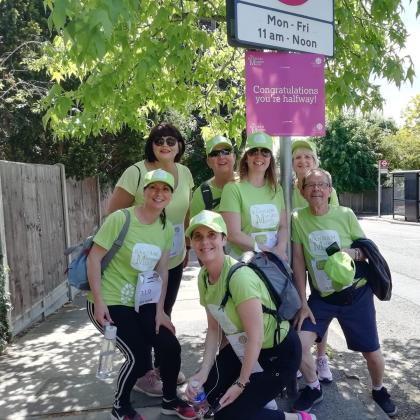 Liz 
"I did the 15 mile route of The Banham Marsden March and it was absolutely brilliant. The atmosphere was great, not just with people taking part in the event - people along the way were cheering for us." 
Liz was diagnosed with acute myeloid leukaemia (AML) in February 2021 and referred to The Royal Marsden for treatment. Liz and her team, named 'Smells like team spirit', took part in The Banham Marsden March for the first time last year and raised over £10,000!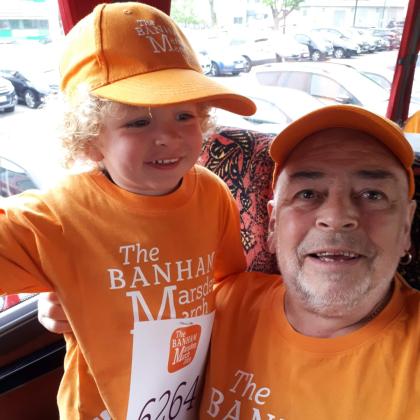 Alan
"We have taken part in 9 out of the 10 Marsden Marches, it's such a lovely, supportive atmosphere, and clearly means a lot to everyone. So many people come out and give their time up to support."
Alan and his family have taken part in The Banham Marsden March nine times, raising over £20,000 to date. Their team, named 'The Three Generations' includes his wife, children, and their grandchildren.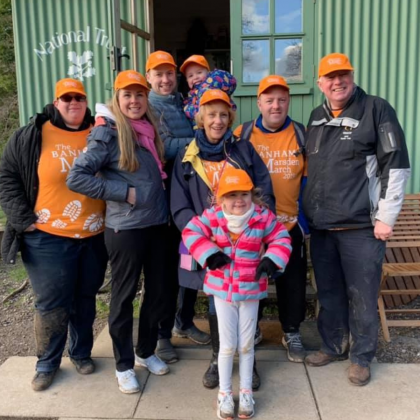 Christine
For Christine, taking part in The Banham Marsden March is a special way to give back to The Royal Marsden. She says, for her it's not just about the incredible work they do every day but also to help fund research and new treatments. 
"The Royal Marsden are brilliant and thanks to their care and treatment, I'm now doing really well and can't wait to take part in The Banham Marsden March once again."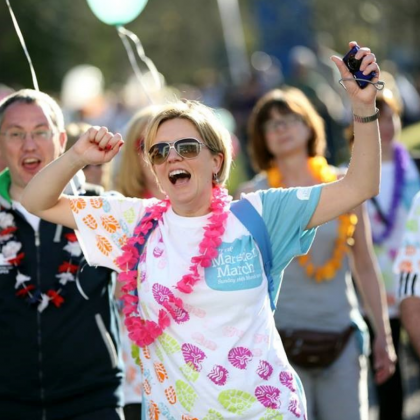 Laura
In 2008, Laura was treated at The Royal Marsden following a cervical cancer diagnosis. Three years later, whilst still recovering from her treatment, Laura took part in the very first Banham Marsden March in 2011. Since then She has taken part every year. 
"There is something about being together with all those former patients and current patients and their families in a way to say thank you to the Hospital. You see the signs pinned to the back of people's t-shirts; it is a really moving event."
Be the first to know when registration for The Banham Marsden March 2024 opens!
When you register for our early bird alert, we'll email you as soon as registration for next years event open. We'll also send you an exclusive discount!