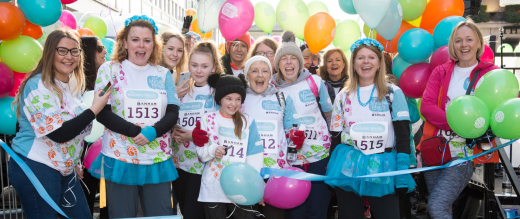 The Banham Marsden March
We are delighted to announce that we have been able to reschedule the event  for Sunday 19 May. Please note this is only open to those already registered for the original 10 March event. 
Thank you to all our supporters for their patience and understanding in light of the cancellation of The Banham Marsden March.
We are delighted to announce that we have been able to reschedule the event to:
Sunday 19 May 2019
The response we have received about rearranging the event has been overwhelming and goes to show what a dedicated group of supporters we have at The Royal Marsden Cancer Charity. We are really pleased that we have been able to work with the various local authorities involved to find a new date for everyone to come together and walk the route as planned. We hope you will be able to join us there. It promises to be a fantastic day.
What happens next?
We will send instructions via email about how to re-register for the event. In the meantime, please hold on to your walker pack, including your t-shirt and walker number. Please note that the rescheduled event is only open to people who were registered to walk on Sunday 10 March 2019.
Can't make it? 
We understand this date won't work for everyone, so if you can't make it, why not walk the distance on a day of your choice instead? If you've already completed your own walk, or plan to do so in the next few weeks, please email us on [email protected] and we can send your well-deserved Banham Marsden March medal.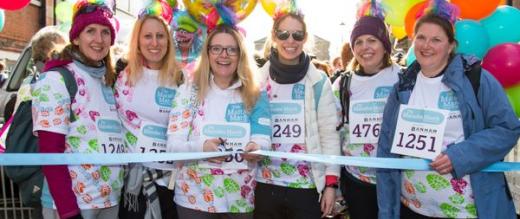 About the Banham Marsden March
Thousands of people join us every year to walk between our two hospitals in Chelsea and Sutton. You'll find patients, families, friends of the hospital – even our consultants – all taking part and fundraising. The choice is yours, sign up to the 15 mile walk or join us for the final leg by taking part in the 5 mile.
When you cross the finish line, there's a big party for all our walkers and spectators. Listen to bands, unwind in a deckchair, enjoy the BBQ, or simply soak up the amazing atmosphere. You've earned it!
We started The Banham Marsden March in 2011 and since then, you've raised more than £10 million. The money you raise goes towards improving the lives of everyone affected by cancer, in the UK and around the world. See our top fundraising tips!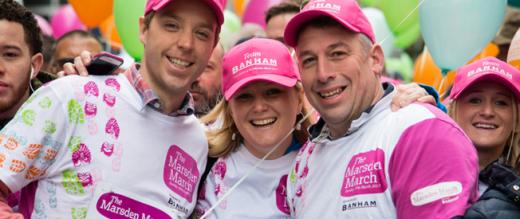 Our sponsor
The Royal Marsden Cancer Charity is proud to announce a new three year partnership with Banham to sponsor their annual fundraising event, now known as The Banham Marsden March.
Their support has been vital in helping us make the event such a great success to date.
Charles Hallatt, Executive Chairman Banham:
Banham have proudly supported the March since 2015 with more than 300 members of our staff taking part and raising over £96,000.
Register for next year
Sign up for our early bird alerts, so you will be the first to know when registration opens for next year. 
Pictures from The Banham Marsden March 2018