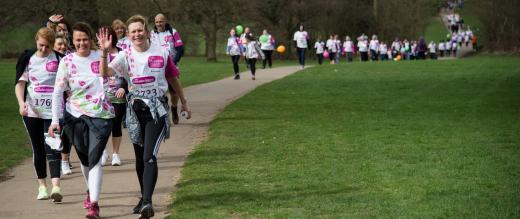 The Marsden March
The Marsden March, on Sunday 4 March 2018, is a 14 mile and 5 mile charity walk sponsored by Banham. It runs between The Royal Marsden hospitals in Chelsea and Sutton. 
Volunteer for us
All places for The Marsden March 2018 have been snapped up! But if you still want to join us on the day, why not apply to be a volunteer.
About The Marsden March
Thousands of people join us every year to walk between our two hospitals in Chelsea and Sutton, on the 14-mile route or the shorter 5-mile route on the final leg. You'll find patients, families, friends of the hospital – even our consultants – all taking part.
When you cross the finish line, there's a big thank-you party for all our walkers. Listen to bands, unwind in a deckchair, enjoy the BBQ, or simply soak up the amazing atmosphere. You've earned it!
We started The Marsden March in 2011 and since then, you've raised more than £10 million. The money you raise goes towards improving the lives of everyone affected by cancer, in the UK and around the world.
This year The Marsden March takes place on Sunday 4 March.
Last year, it took me 10 minutes to get out of bed, so walking 14 miles will be a big challenge. It will be an amazing sense of achievement and a great way to say thanks for all the help and support I've received.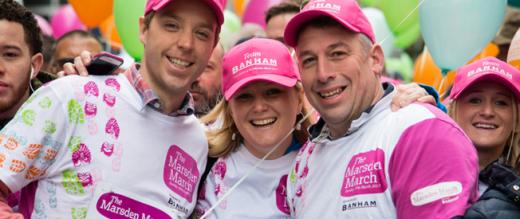 Our sponsor
For the fourth year in a row, Banham is the proud sponsor of The Marsden March.
Their support has been vital in helping us make The Marsden March such a great success.
Charles Hallatt, Banham Chairman:
The March is a fantastic day bringing individuals, families and friends together to raise funds and awareness for such an important cause.
Last year's Marsden March...