Essential Information about The Banham Marsden March
From registration, to travel and parking to what to wear, here you'll find everything you need to know about taking part in The Banham Marsden March on Sunday 3 May 2020.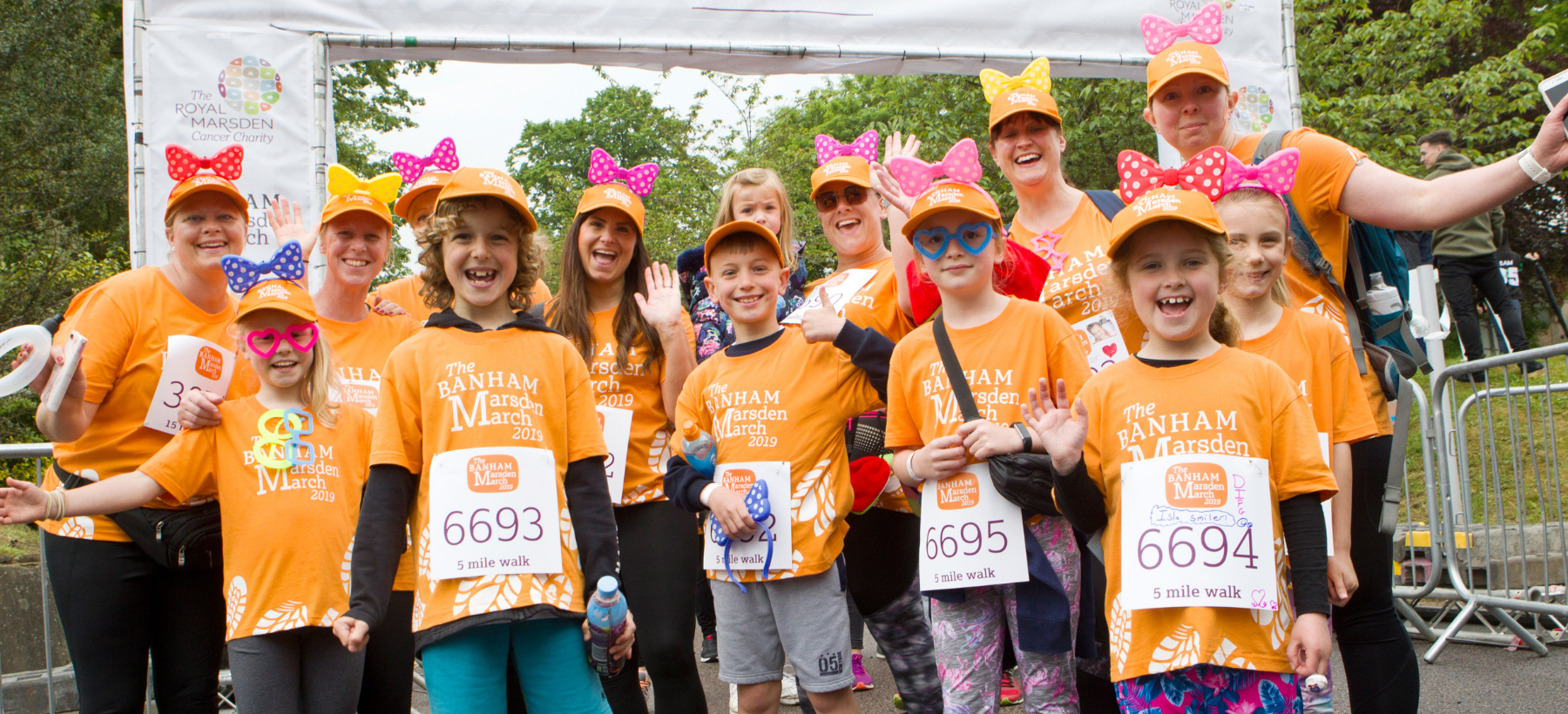 Registration fees
We are running special launch rate prices from 25 September until 4 November 2019.
0-10 year olds – Free entry, but all children do need to be registered
11-17 year olds – £10 for either distance
Adults – £25 for the 15 mile walk or £20 for the 5 mile walk
Royal Marsden Hospital Trust staff – £5 for either distance
The launch price is equal to £5 off full price tickets for adults, so sign up soon to make the most of this special rate!
Registration fees go towards covering the cost of the event and are non-refundable.
Registering for The Banham Marsden March
All walkers need to register in advance as we cannot accept any registrations on the day of the event. Register for The Banham Marsden March here.
You will be invited to set up a team and you can register multiple walkers to your team. Just make sure you have the following details from your team members before you start:
Email address
Postal address
Date of birth
T-shirt size
When you have registered, you'll be taken to a confirmation screen and receive an email receipt. If you haven't received your email please check your junk mail – just in case!
Registrations will close on 26 February 2020. We will not be able to accept any more registrations after this date.
Terms and conditions
For all the do's and don'ts of taking part in The Banham Marsden March, take a look at our full terms and conditions of entry
Who can take part?
There are no age limits and we welcome all ability levels!
If you are under 16 you can still take part as long as you are accompanied by a responsible adult.
We ask that if you have an existing medical condition, are pregnant or a Royal Marsden patient that you check with your GP or consultant before taking part.
If you are planning to take part in a wheelchair please let us know so we can make sure you have the right support from our team on the day.
Start times and coaches
Start times
We don't want everyone starting the walk at the same time or it will be mayhem!
Walkers will start in waves, which set off in 15 minute intervals. The first wave for the 15 mile walk will start at 8.30am and the first wave for the 5 mile walk will be at 11am.
This year, you can choose what time you'd like to start. When you register, simply select the time you want to set off, and make sure to select the same time for anyone else you are registering. Don't forget to let others in your team know what time you have chosen so that you all select the same start time.
Bear in mind that the average walking pace is 3mph, and most people take around 5 hours to complete the walk. If you think you will take longer than 5 hours please be sure to select one of the earlier waves. The checkpoints must close at the times listed below. The finish line party must close at 6.30pm, so plan to be back in plenty of time to enjoy the celebrations before then.
Coaches
We'll have a limited number of coaches taking walkers from The Royal Marsden in Sutton to the 15 mile and 5 mile start locations, for an additional cost of £5 per person. So you'll be able to park your car in Sutton, hop on a bus to the start line, and then walk back to your car to head home at the end of the day.
You need to book the coach tickets when you register online and the coach ticket cost is non-refundable. Dogs are allowed on the coach, but larger dogs who require a seat will need a ticket!
Only walkers with a pre-booked coach ticket will be allowed to board the coaches on the day.
There will not be a coach running from Sutton back to Chelsea after the event.
The route
We start at Dovehouse Green, which is off King's Road and approximately a 5 minute walk from the hospital in Chelsea, then follow a 15 mile route through London, down to our hospital in Sutton.
On the way, you'll walk along Fulham Road, down Putney High Street, over Wimbledon Common, on to Raynes Park and through King George's Playing Fields. This is where we join everyone doing the shorter 5 mile walk. Then we head through Nonsuch Park and Belmont, before arriving for a party at our hospital in Sutton.
The final Banham Marsden March route is subject to change. But don't worry, walkers will be supplied with a detailed route map on arrival at the start point. Along the way there will be signage and friendly volunteer marshals to send you in the right direction.
We'll pop a downloadable route map online when it is ready, so check back nearer the time!
Checkpoints
We have three checkpoints along the route:
The Windmill, Wimbledon Common SW19 5NR
King George's Playing Fields, Tudor Drive SM4 4PN (also the 5 mile start)
Nonsuch Mansion, Nonsuch Park, SM3 8AL
Toilets and medical provisions will be available at each of these points. There will be a limited range of food and drink available for purchase at King George's Playing Fields.
Please note our checkpoints will close at the following times:
Wimbledon Common – 2.15pm
King George's Playing Fields –  4.15pm
Nonsuch Park – 5.15pm
The checkpoints listed are a great place for your friends and family to support you. Please do not ask supporters to join you on the route as this will cause health and safety problems and overcrowding along the route.
We will ask anyone without a walker number to leave the route.
Changing your details, chosen start time or distance
Changing your details
If you have changed your postal or email address since you registered for The Banham Marsden March, let us know by emailing us on [email protected] as soon as possible and we will update our records.
If you need to change your postal address, please make sure you let us know before Monday 9 March so that your walker pack will go to the right place.
Changing your start time or distance
We hope you will select a distance and start time that suits you. However, if you do decide that you'd like to change, please get in touch and we will do our best to change your distance and/or start time. We cannot guarantee that we will be able to, as there is a strict capacity limit on each wave for health and safety reasons. If you want to make any changes please get in touch by 17 April 2020 as we won't be able to make any changes after this date.
Cancelling your place
If you can no longer make it, please let us know as soon as possible so that we can make your place available to other walkers. Unfortunately we are unable to transfer your place to anyone else.
Your walker pack
You will receive your walker pack in April 2020. This will include:
Walk instructions
T-shirt
Cap
Walker number
Back panel
Fundraising guide
Sponsor form
If your t-shirt doesn't fit, you will be able to change it for a new one on the day at the Information Tent before you set off. However, we will only have a few spares of each size, so we cannot guarantee that the size you require will be available
If you haven't received your walker pack by 17 April, please email us at [email protected] with your name and the address you registered with so that we can look into this for you. You will need to collect your replacement walker pack on the day from the Information Tent.
Fundraising for The Banham Marsden March
Fundraising target
The Banham Marsden March is a charity walk, so we ask all our walkers to raise a minimum of £150 for The Royal Marsden Cancer Charity. The money you raise will help us to build the Oak Cancer Centre, and make a difference to the lives of people affected by cancer.
We'll be sending plenty of tips along the way to help you reach your target! So don't forget to add our email address, [email protected], to your contacts.
Fundraising tips
Visit our fundraising page for plenty of tips on how to make the most of your JustGiving page, and download some handy fundraising tools.
Paying in your donations
To see how to pay in your donations, click here.
Fundraising deadline
Please make sure that you've collected and handed in all your sponsorship money by 5 June 2020.
Travel and parking
Please check your journey before you travel.
15-mile start
Dovehouse Green, King's Road, Chelsea, SW3 6NT - see map
The 15 mile walk start location is brand new for 2019 - see map for details.
Unfortunately there is no parking available at the beginning of The Banham Marsden March in Chelsea.
The nearest tube stations are South Kensington and Sloane Square. Marshals will be available on the day to direct you. Please do not enter the hospital.
5-mile start
King George's Playing Fields, SM4 4PN - see map
There is limited parking on the side roads around the park. Please be courteous to the residents of the area.
The nearest station is Raynes Park which is a 2-mile walk away. Bus routes 163 from Raynes Park, 80 and 93 from Morden Station will take you close to King George's Playing Fields.
If you are travelling by train or bus to your start location please check your journey before you travel. Please note that Belmont Station will be closed on Sunday 10th March.
Coach travel
If you have booked a coach ticket, please ensure you arrive within your allocated time slot. Unfortunately, we are not able to wait for any late arrivals.
Head to the Cotswold Road entrance of the Royal Marsden in Sutton where free parking will be available all day. Please do not park in the surrounding roads as you may get a ticket or be clamped. Posters and marshals will direct traffic on the day.
Coaches depart from The Royal Marsden, Cotswold Road, SM2 5NG - see map
Parking at Sutton
There will be free parking at The Royal Marsden, Sutton all day via the Cotswold Road entrance, SM2 5NG. Please do not park in the surrounding roads as you may get a ticket or be clamped. Posters and marshals will direct traffic on the day.
At the start
On arrival at your start location please make your way to the Welcome area where you will receive a map of the route and a carton of water.
Please make sure you know your allocated start time (which we will send in an email on Saturday 4 May) and don't arrive more than 15 minutes before this time.
What to wear
Your Banham Marsden March t-shirt, cap, walker number and back panel.
Comfortable trainers or a comfy pair of shoes appropriate for walking are also advised. Please make sure you check the weather forecast beforehand and wear appropriate clothing under your Banham Marsden March t-shirt.
Wearing fancy dress is totally up to you as long as your walker number is clearly visible – we think it's a great way of making the event even more fun!
Walker number
Please clearly display your walker number, making sure it is visible at all times.This number is registered to you so please do not exchange numbers.
Remember to complete the information on the reverse of your walker number.
If you have lost your walker number, or it was lost in the post, you will need to collect a new one on the day. Head to the Information Tent and we will allocate a new number to you. We aren't able to send any new walker numbers in the post ahead of the day.
Back panel
Your back panel is for you to personalise with your own message about why you are walking.
Photos and videos
By taking part in this event, you are confirming that you are happy for photos or videos of you taken on the day to be used by the charity and our sponsor, Banham, for marketing and fundraising purposes. If you do not want your photos to be used in this way please contact us on [email protected] or give us a call on 0208 661 3391.
Our official Banham Marsden March photographers will be along the route wearing Banham Marsden March high-visibility waistcoats.
All the best photos will be on our Facebook page in the days following the event and you can share your own special Banham Marsden March moments on social media using the hashtag #MarsdenMarch.
At the finish
At the end of the route we'll give you a warm welcome as you cross the finish line. You can collect your medal and celebrate your success with other walkers and staff from the hospital. There will be refreshments and hot drinks for sale, complimentary massages and live entertainment.
The finish site will close at 6.30pm. There will be a free shuttle bus service from the finish line party to Sutton Station to help you get home after the event.
Volunteering
You don't have to walk to support The Banham Marsden March – we still need over 300 volunteers to help make the day a success. Interested? Send us an email on [email protected] and we'll let you know when we open volunteer registrations. We welcome individuals as well as community groups – the more volunteers the merrier!
Get in touch
If you have any queries about The Banham Marsden March, send us an email on [email protected] or give us a call on 0208 661 3391 and we'll be happy to help.