On the day of The Banham Marsden March
From travel and parking to what to wear, here you'll find everything you need to know about taking part in The Banham Marsden March.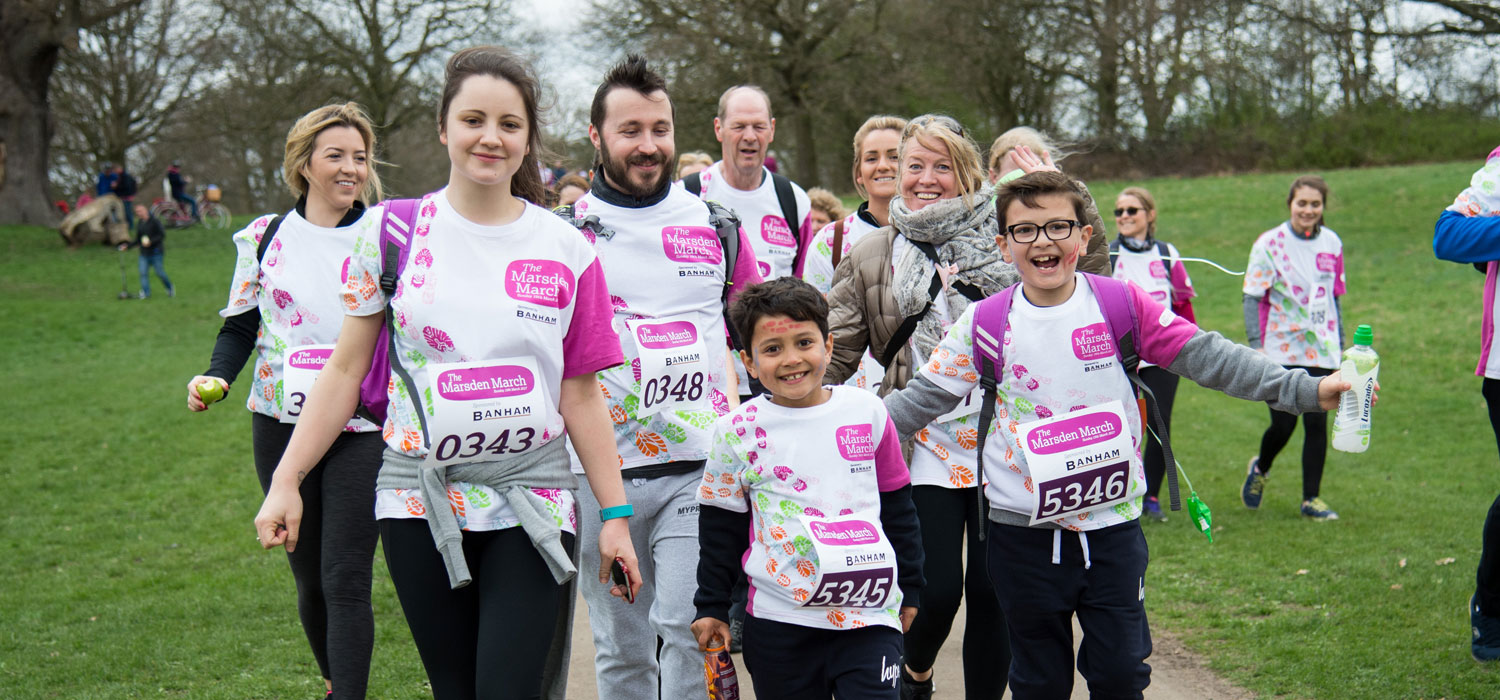 Download a Walker Pack
This is the updated version of the walker pack for the rescheduled walk in May.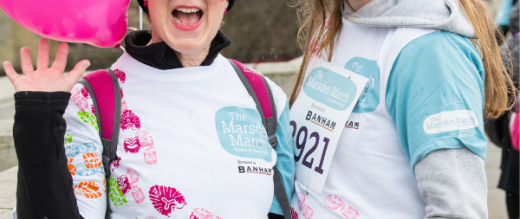 The route
We start at Dovehouse Green, which is off King's Road and approximately a 5 minute walk from the hospital in Chelsea, then follow a 15-mile route through London down to our hospital in Sutton.
Please note the walk is slightly different to the planned route for our March event. On the way, you'll walk along Fulham Road, down Putney High Street, over Wimbledon Common, on to Raynes Park and through King George's Playing Fields. This is where we join everyone doing the shorter 5-mile walk.
Then we head through Cheam and Belmont, before arriving for a party at our hospital in Sutton.
The final Banham Marsden March route is subject to change. But don't worry: walkers will be supplied with a detailed route map on arrival at the start point. Along the way there will be signage and friendly volunteer marshals to send you in the right direction.
Travel and parking
Please check your journey before you travel.
15-mile start
Dovehouse Green, King's Road, Chelsea, SW3 6NT - see map
The 15 mile walk start location is brand new for 2019 - see map for details. 
Unfortunately there is no parking available at the beginning of The Banham Marsden March in Chelsea. 
The nearest tube stations are South Kensington and Sloane Square. Marshals will be available on the day to direct you. Please do not enter the hospital.
5-mile start 
King George's Playing Fields, SM4 4PN - see map
There is limited parking on the side roads around the park. Please be courteous to the residents of the area.
The nearest station is Raynes Park which is a 2-mile walk away. Bus routes 163 from Raynes Park, 80 and 93 from Morden Station will take you close to King George's Playing Fields.
If travelling by train or bus to your start location please check your journey before you travel. Please note that Belmont Station will be closed on Sunday 10th March.
Coach travel
If you booked a ticket for the 10 March event, we will send you a new coach time along with your new start time ahead of the 19 May event. Please bring your old coach ticket with you as well as your email confirmation of the new time.
The Royal Marsden, Cotswold Road, SM2 5NG - see map
Coaches will be running from Sutton to the 15-mile and 5-mile start locations. You need to have pre-booked a coach ticket when registering to board.
Please ensure you arrive within your allocated time slot. Unfortunately, we are not able to wait for any late arrivals. 
Head to the Cotswold Road entrance of the Royal Marsden in Sutton where free parking will be available all day. 
Please do not park in the surrounding roads as you may get a ticket or be clamped. Posters and marshals will direct traffic on the day.
Parking at Sutton
There will be free parking at The Royal Marsden, Sutton all day via the Cotswold Road entrance, SM2 5NG. Please do not park in the surrounding roads as you may get a ticket or be clamped. Posters and marshals will direct traffic on the day.
At the start
On arrival at your start location please make your way to the Welcome area where you will receive a map of the route and a carton of water. 
Please make sure you know your allocated start time (which we will send in an email on Saturday 4 May) and don't arrive more than 15 minutes before this time.
What to wear
Your Banham Marsden March t-shirt, cap, walker number and back panel.
Comfortable trainers or a comfy pair of shoes appropriate for walking are also advised. Please make sure you check the weather forecast beforehand and wear appropriate clothing under your Banham Marsden March t-shirt.
Wearing fancy dress is totally up to you as long as your walker number is clearly visible – we think it's a great way of making the event even more fun!
Walker number
Please clearly display your walker number, making sure it is visible at all times.This number is registered to you so please do not exchange numbers.
Remember to complete the information on the reverse of your walker number.
If you have lost your walker number, or it was lost in the post, you will need to collect a new one on the day. Head to the Information Tent and we will allocate a new number to you. We aren't able to send any new walker numbers in the post ahead of the day.
Back panel
Your back panel is for you to personalise with your own message about why you are walking.
Checkpoints
We have three checkpoints along the route:
The Windmill, Wimbledon Common SW19 5NR
King George's Playing Fields, Tudor Drive SM4 4PN (also the 5-mile start)
Cheam Leisure Centre, Malden Road SM3 8EP
Please note: our third checkpoint has changed since the postponed event. This is because Nonsuch Park is hosting another event on 19 May.
Toilets and medical provisions will be available at each of these points. There will be a limited range of food and drink available for purchase at King George's Playing Fields. Please ensure that you bring adequate refreshments.
Please note our checkpoints will close at the following times:
Wimbledon 1pm
King George's Playing Fields 3pm
Cheam Leisure Centre 4pm
The finish site will close at 5.45pm
The checkpoints listed are a great place for your friends and family to support you. 
Photos and videos
By taking part in this event you are consenting to us using images and videos of you taken on the day in any future publicity or advertising for The Banham Marsden March.
Our official Banham Marsden March photographers will be along the route wearing Banham Marsden March high-visibility waistcoats.
All the best photos will be on our Facebook page in the days following the event and you can share your own special Banham Marsden March moments on social media using the hashtag #MarsdenMarch. 
Friends and family
Supporters can cheer you on at the checkpoints listed above, as well as the finish line in Sutton. Please do not ask supporters to join you on the route as this will cause health and safety problems and overcrowding along the route. 
We will ask anyone without a walker number to leave the route.
At the finish
At the end of the route we'll give you a warm welcome as you cross the finish line. You can collect your medal and celebrate your success with other walkers and staff from the hospital. There will live entertainment, refreshments and hot drinks for sale.
The finish site will close at 5.45pm
Getting home
There will be a free shuttle bus service from the finish line party to Sutton Station to help you get home after the event.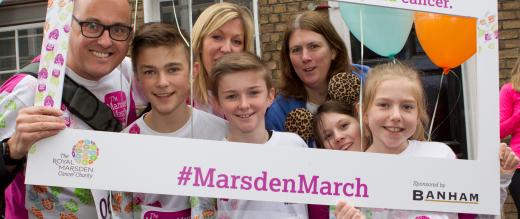 #MarsdenMarch
We'd love to see all your snaps from the day, including your breakfast, preparation, getting the team together - anything at all! So please share photos, videos and updates on social media throughout the day.
We're on Twitter, Facebook and Instagram so there's lots of ways for you to share your Banham Marsden March moments with us. 
Any questions?
If you can't find what you're looking for here, take a look through our frequently asked questions.