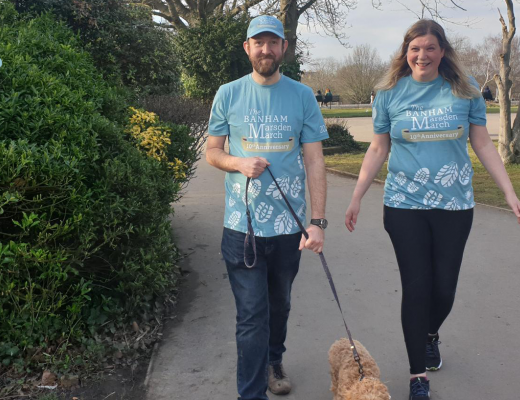 Together we walk
Thank you to everyone who took part in The Banham Marsden March at Home!
Congratulations to everyone who took part in The Banham Marsden March at Home over the weekend. We can't thank you enough for embracing the spirit of The Banham Marsden March and raising vital funds at such a difficult time. We hope you all had a fantastic day, wherever you walked.
Register to hear about The Banham Marsden March 2022
We're already looking forward to next year, when we hope to bring thousands of you together again along the traditional route between Chelsea and Sutton. 
Sign up to early bird alerts and we'll email you as soon as we set a date and open registrations for 2022.
The Oak Cancer Centre
Every donation from The Banham Marsden March at Home will help us to build the Oak Cancer Centre. This brand-new centre, in Sutton, will speed up the development of life-saving treatments and ensure we can be there for everyone who needs us.
This brand-new facility is due to open in Sutton by the end of 2022. Thank you for helping to make it a reality.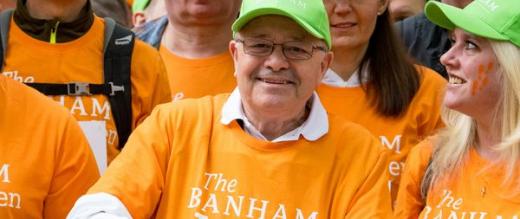 Our sponsor
The Royal Marsden Cancer Charity is proud to be working with Banham as title sponsor for The Banham Marsden March. 
Their support over the last six years has been vital in helping us make the event such a great success. 
Banham is now proud to support our first ever 'at home' event this year, following the cancellation of the 2020 and 2021 events. 
Charles Hallatt, Executive Chairman, Banham said:
Banham has proudly supported the March since 2015 with more than 360 members of our staff taking part to date, raising over £130,000. After the challenging circumstances presented in 2020 and 2021, we look forward to being able to take part in this special event virtually instead, to ensure we can raise vital funds to support the Oak Cancer Centre appeal.