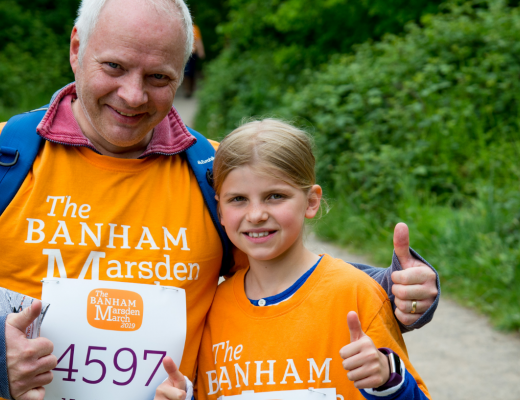 Our supporter promise
Every day you and others like you make a huge difference by supporting our work. When you support us, we make a promise to you.
Your support means The Royal Marsden can continue to provide the best possible treatment and care for patients.
Without you, The Royal Marsden would not be one of the best cancer centres in the world. Your help means our nurses, doctors and research teams can provide the very best care and develop life-saving treatments which are used here in the UK and around the world.
That's why you're so important to us. And so when you decide to support us, in return we make a promise to you.
We promise that
We are committed to high standards
We are registered with the Fundraising Regulator and are proud to champion the principles of honesty, accountability and transparency when fundraising
We will be clear, honest and open
We will keep you up to date with our work and finances so you can see how your money is spent and the difference you are making. But you are in control. If you ever want to change the way that we communicate with you please just let us know.
We will treat you, and your privacy, with respect
Your details are safe with us. We will never sell your information to third parties or share your details with any other charities for their own purposes.
We are fair and reasonable
We treat our patients, supporters and the general public fairly, showing sensitivity and consideration.
We are accountable and responsible
You are important to us and we take your feedback seriously. We value your feedback. If you're unhappy with anything, please get in touch and let us know.
Commitment to the highest fundraising standards
We're proud to be working with the Fundraising Regulator to champion honesty, accountability and transparency. Our commitment to ensuring that our fundraising activity is open, legal and fair is enshrined in the fundraising code of practice. By being registered with the Regulator we are committing ourselves to the Institute of Fundraising's Code of Fundraising Practice – the standards set for fundraisers in the UK.
How to complain
If you're unhappy with our work, we'd like to hear about it - in fact we see it as an opportunity to learn and improve. You can contact us to make a complaint online, by calling 020 7808 2233, or by letter or in person at either our Chelsea or Sutton site. You can also use these contact details to discuss any issues or to provide feedback.
We'll always make sure that:
your complaint is acknowledged speedily and recorded
your complaint is heard and investigated effectively
your complaint is dealt with in an appropriate, fair and timely manner
we learn from your complaint.
We will get back to you within one working day and commit to responding in full within ten working days. If you're not satisfied with our response you can contact the Fundraising Regulator for advice.
If you use our complaints procedure, you're agreeing that we can use the personal information you send us for purposes connected with your complaint.