Announcing the appointment of our new Chairman
We are delighted to announce the appointment of Sir Douglas Flint CBE as the new Chairman of both The Royal Marsden NHS Foundation Trust and The Royal Marsden Cancer Charity.
Sir Douglas, who has been a Trustee of The Royal Marsden Cancer Charity since 2017, will succeed Charles Alexander CBE at the expiry of his six-year term of office in November. Sir Douglas and Charles will be working together over the coming months before Sir Douglas takes up the role of Chair from 1 December 2022.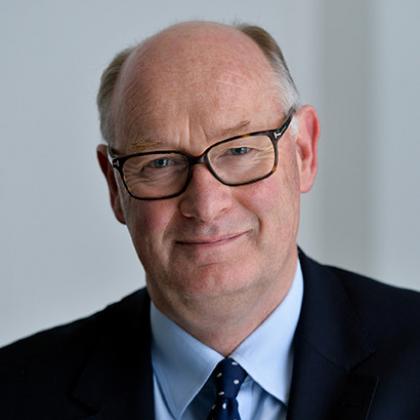 Sir Douglas said: "I am proud of my involvement with The Royal Marsden Cancer Charity, and through this I have learned a great deal about the work of the hospital and its extraordinary staff.
I have found the experience both humbling and inspiring; the commitment to excellence, the empathy for those who enter their care, the pride at all levels in the hospital in what they do and the understated, yet real, contribution that is being made to fundamental research and clinical excellence for the benefit of current and future generations."
Sir Douglas has had two extensive executive careers. At international accounting firm KPMG, he trained as a chartered accountant and became a partner in 1988, specialising in banking, multinational financial reporting, treasury and securities trading operations, group re-organisations and litigation support.
He then joined HSBC in September 1995 as Group Finance Director and was appointed Group Chairman of HSBC Holdings plc in 2010, retiring in 2017 after 22 years of service. In 2018 he was honoured with a Knighthood in recognition of his services to the finance industry.
Sir Douglas currently serves as Chair of two corporate Boards in the UK: abrdn plc, one of the largest asset management groups based in the UK; and IP Group plc, which helps to create, build and support outstanding intellectual property-based companies. Over his career, he has gained valuable experience though a varied non-executive director portfolio in both the private and charitable sectors.
Antonia Dalmahoy, Managing Director of The Royal Marsden Cancer Charity, said: "Douglas's breadth of business experience and his passion for The Royal Marsden and The Royal Marsden Cancer Charity will be of immense value to all of us."
Antonia Dalmahoy also acknowledged the dedication and contributions of outgoing Chairman Charles Alexander CBE.
Antonia said: "I would also like to take this opportunity to thank Charles Alexander CBE. Charles's contribution has enabled the Trust to go further and faster in improving quality of life and survival for patients locally and globally through his support for treatment, care and research."
"Under his Chairmanship, The Royal Marsden Cancer Charity has also excelled in its support for the patients and staff of the Trust, supporting the Trust throughout the pandemic and developing the wonderful new Oak Cancer Centre on the Sutton site. My deep appreciation and thanks to Charles for his dedication and hard work."
About our trustees
We are a registered charity, governed by an independent board of trustees and a director.
Our trustees are jointly responsible for running the Charity and for making sure that all the funding we receive goes towards achieving the best outcomes for cancer patients at The Royal Marsden and across the UK by continuously driving for excellence in all areas of cancer research, diagnosis, treatment and care.
Discover the latest news and stories on our blog