Q&A with Clinical Scientist, Dr Anna Minchom
Dr Anna Minchom, Clinical Scientist and Consultant Medical Oncologist at The Royal Marsden tells us more about her role developing new drugs and drug combinations to treat lung cancer.
Dr Anna Minchom, whose role is funded by The Royal Marsden Cancer Charity, is a Clinical Scientist in the Oak Foundation Drug Development Unit at The Royal Marsden and the Institute of Cancer Research, London. She is also a Consultant Medical Oncologist in The Royal Marsden's Lung Unit. Here she tells us more about her work.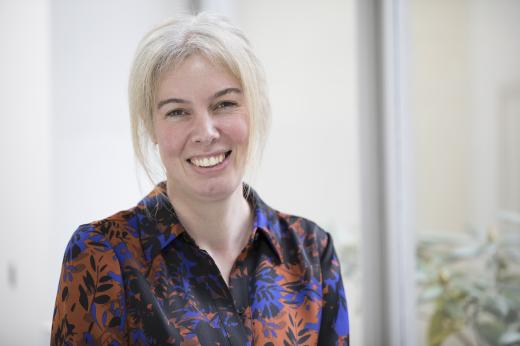 Can you explain what your role is?
I am a principal investigator on early-phase drug trials, including first in-human clinical trials, where drugs developed in laboratories are tested for the first time in patients – a crucial part of the drug development process.
My main research focus is developing new drugs and drug combinations for the treatment of patients with lung cancer and mesothelioma - a cancer which mainly affects the lining of the lungs – and other cancers of the chest. We have seen a lot of advancement in treating lung cancer with immunotherapy drugs in recent years but in almost all cases, immunotherapy eventually stops working.
Why is this so important?
Immunotherapy uses our immune system to fight cancer, helping it to recognise and attack cancer cells. It is used in patients with advanced lung cancer, and it can be very effective for a period of time. So, I'm interested in combinations of drugs that could be used in this situation to reactivate a person's immune system, which will fight the cancer. For instance, I am currently working on the HYPER trial, which is investigating using the combination of the drug guadecitabine and the immunotherapy drug pembrolizumab.
What other developments in this area of research have you been involved in recently?
Earlier this year I presented exciting new trial data at the American Society of Clinical Oncology (ASCO) conference. The trial investigated the effects of a new drug combination which could benefit some patients with advance lung, ovarian and thyroid cancer.
The study, which was led by a team from The Royal Marsden and the Institute of Cancer Research, London, used two drugs called VS-6766 and everolimus to treat cancers with mutations to a protein called KRAS. Mutations to this protein drive one in four cancers and are notoriously difficult to target.
What were the results from this trial?
The treatment showed benefit in patients with a range of cancers, especially those with advanced non-small cell lung cancer. Half of the group of patients with lung cancer have not yet seen their cancer progress at six months – about twice as long as the expected benefit of chemotherapy at such an advanced stage of disease.
This was a small, early-phase trial, but to see that patients are responding to this treatment and are not experiencing severe side effects, is really promising.
Discover more news and stories on our blog