Prue Leith's Normandy Tart recipe for your Marsden Morning
Dame Prue Leith has shared this yummy recipe with us ahead of your Marsden Morning to inspire your baking and inspire your guests to fundraise!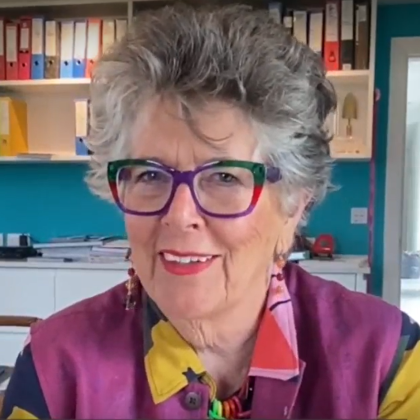 Looking for a recipe that will wow your guests at your Marsden Morning?
Prue's tart is just that! And it's easy to bake, so follow her instructions below to make your Royal Marsden Cancer Charity Normandy apple tart.
Prue Leith's Normandy Tart
(made with a processor)
Set the oven at 200ºC / 400ºF / Gas Mark 6 and put a metal tray in it to heat.
For the pastry:
8 oz plain flour
5 oz butter
1 egg
Pinch salt
2 oz caster sugar
Whizz everything together until the mix forms a ball. Roll out between two sheets of polythene until big enough to line a 10 inch flan ring. Chill 30 mins.  If the dish is porcelain, bake blind. If metal, don't bother.
For the almond filling:
6 oz butter
6 oz caster sugar
8 oz ground almonds
2 eggs
1 tablespoon calvados, kirsch, or whatever you like
Few drops almond essence
Whizz everything in the food processor (no need to wash the bowl after the pastry), then spread in the flan.
For the topping:
3 – 5 eating apples, depending on size
Half a jar smooth apricot jam, warmed with a tablespoon of water to a thick syrup.
Peel the apples if you like, but no need. Core them and cut in half from top to stalk end. Slice each half-apple finely, keeping the slices in order. Arrange them on the filling.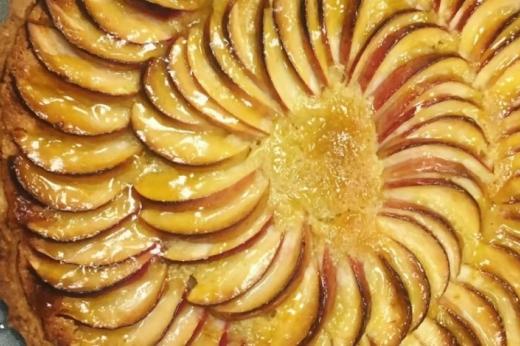 Baking:
Set the flan in the middle of the hot oven and bake for 15 minutes. 
Then paint with hot jam.
Turn the oven down to 180ºC / 350ºF / Gas mark 4 and bake for half an hour or so until the filling is firm and brown.
Remove from the oven and give it another brush with the jam if you think it needs it.
Serving:
Best cooled to tepid or room temp without refrigeration. If you make it in advance, freeze it and then reheat for 20 mins at 180ºC / 350ºF / Gas mark 4 and allow to cool. This will crisp up the pastry again.
There's still time to sign up to host a Marsden Morning on June 30th and get a free fundraising pack.