Raising £115,000 with stage 4 lung cancer – Emma's inspiring story
Since her cancer diagnosis, Royal Marsden patient Emma Bishop has continued to defy expectations and become a beacon of hope for others with cancer.
In April 2022, after a prolonged period of feeling unwell, 39-year-old mum of two, Emma Bishop, was admitted to hospital with a collapsed lung and suspected pneumonia. Instead, she was diagnosed with incurable stage 4 EGFR non-small cell lung cancer which had spread to both lungs, as well as her lymph nodes spine, ribs, pelvis and liver.
"My diagnosis came as a complete shock" says Emma. "No-one really expects to find lung cancer in a 39-year-old non-smoker. As soon as I was diagnosed, I was referred to The Royal Marsden and began treatment under the care of Professor Sanjay Popat."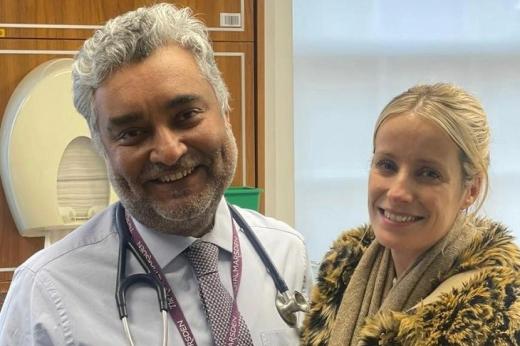 "The team were so reassuring and supportive – they have given me a lot of hope. Being told there was a treatment that would give me more time and help me feel well again was incredible."
"I am currently on a targeted treatment called Osimirtinib, a cancer growth blocker, which is a tablet I take daily. This stopped the spread and has shrunk the cancer. Nine months later there was no sign of disease beyond my lungs. My treatment will not hold forever though, and sadly the timeline is unknown."
Emma's journey to the London Marathon start line 
Despite the diagnosis, Emma took on her first London Marathon – just one year after finding out she had cancer.
"When I was first diagnosed, I said if I was well enough, I would run the London Marathon for The Royal Marsden. If there was a chance I could do it - I wanted to."
"I wanted to show that people living with cancer are still living – we can do normal things and go above and beyond that too. I also wanted to say thank you to everyone at The Royal Marsden who have worked so hard to give me more time here."
Emma surpassed an incredible £60,000 fundraising target, having already smashed her initial goal of £30,000 and overall raised £115,000!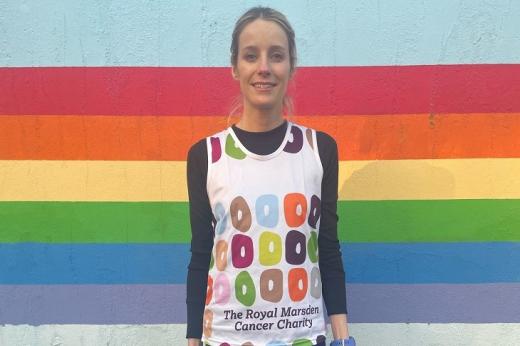 "It's extraordinary" said Emma. "It's incredible to see family and friends, previous employers and even complete strangers give support."
Emma's fundraising placed her firmly in the top two of fundraisers taking part in the London Marathon 2023. She was also featured as fundraiser of the week by event organisers TCS London Marathon.
Raising money for research
Emma has been particularly passionate about raising money that will go towards developing new treatments for cancer and improving early diagnosis. Her fundraising for The Royal Marsden Cancer Charity will help support ground-breaking research at The Royal Marsden, which will help cancer patients everywhere.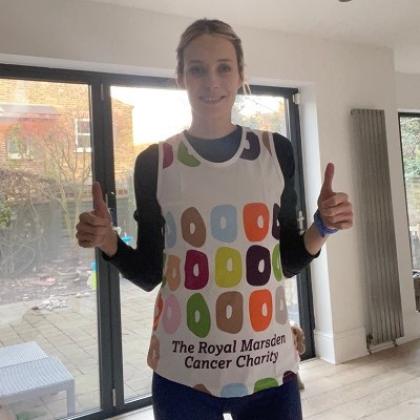 "The progress that The Royal Marsden are making to find new treatments is outstanding" says Emma.
"I want to do what I can to help while I am well. As hard as it is to come to terms with the fact that I have a life-threatening currently incurable disease, I am doing my best to live a normal life for my husband and children. I also want to support the discovery of new treatments that might extend my time with them." 
"I also want to give back to all the hardworking, kind people at The Royal Marsden who are invaluable and a complete constant, holding our hands and making us smile in the most frightening of times."
The opening of the Oak Cancer Centre
Emma joined us at the opening of the Oak Cancer Centre in June, and met His Royal Highness (HRH) Prince William, Prince of Wales.
Speaking at the event, she said: "The Oak Cancer Centre will be able to build on the already pioneering research carried out by The Royal Marsden into cancer diagnosis and treatment. This incredible research and treatment facility will accelerate both the reliable means to diagnose cancers earlier, when they are more able to be cured, and the development of new cancer treatments to help cancer patients like me to live longer even with cancer."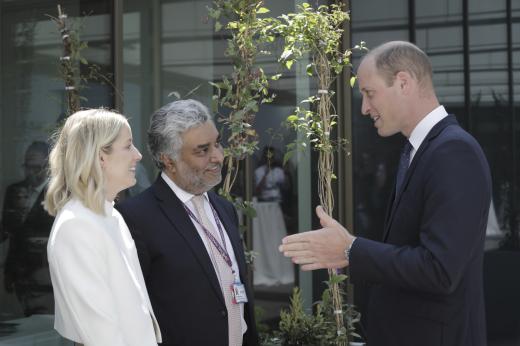 "Cancer treatment gives you time. Time is the quite simply the most precious resource we have. My treatment has allowed me to host another Christmas, see my grandmother turn 90, my son turn 5, my daughter turn 6. I will celebrate my 10th Wedding Anniversary with my husband later this year, there is a strong chance I will reach my 40th birthday next year and with the research conducted at the Oak Cancer Centre, I may reach many more milestones."
"I have had the best experience of my life, which my family and I will never forget and it will be one of my greatest achievements. I still cannot believe that any of this was possible."
On behalf of The Royal Marsden Cancer Charity, we'd like to say thank you for all of your support, Emma!
Your support makes incredible things happen.
Thanks to our supporters we continue to be there for everyone who needs us. We ensure the nurses, doctors and research teams at The Royal Marsden can provide the very best care and develop life-saving treatments, which are used across the UK and around the world.
Discover ways you can support us today.
Explore more inspiring stories on our blog.