Rowing into the New Year
Meet Charlotte Irving who is taking on an extrOARdinary challenge this December - to row across the Atlantic Ocean while raising funds for cancer research.
Royal Marsden Cancer Charity Supporter Charlotte Irving and two teammates will be spending Christmas at sea as they take on this remarkable 3,000-mile challenge. The trio aim to set a world record crossing time all while raising funds for cancer research.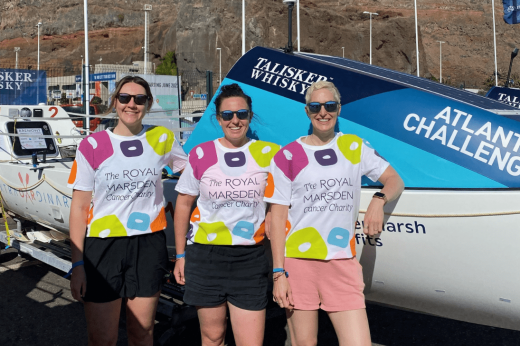 Charlotte tells us more…
"It seems unbelievable that I will be ending 2021 attempting the world record for fastest crossing by a female trio in the Talisker Whisky Atlantic Challenge. Two years ago, my friends Kat Cordiner, Abby Johnston and I decided to enter as Team ExtraOARdinary for the unstoppable 3,000-mile row from the Canary Islands to Antigua.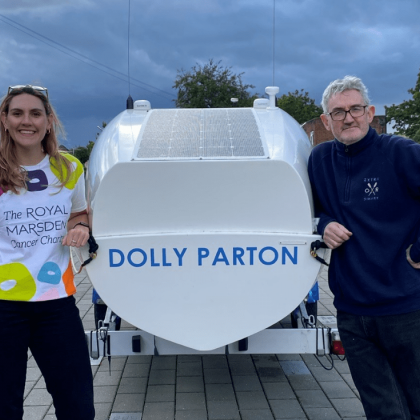 The three of us have all been affected by cancer in some way. Kat was first diagnosed with cancer in 2019 and despite going into remission, a year ago she was told it is incurable. Although the three of us love a challenge, we wanted to ensure what we are doing is meaningful and raising money for the three top cancer charities seemed fitting.
My dad, Colm Irving, has worked for The Royal Marsden for over 30 years. I have grown up listening to my dad talk about the hospital's amazing work and I know the money we raise will help a lot of patients. I feel privileged to do something to help."
Preparing for the challenge of a lifetime
Since early 2020, it has been a non-stop planning, training and looking after each other to ensure we are all fit and mentally ready for the challenge ahead.
We have followed an intense training schedule throughout this year, juggling our day jobs and fundraising for the three beneficiary charities, The Royal Marsden Cancer Charity, Cancer Research UK and Macmillan Cancer Support.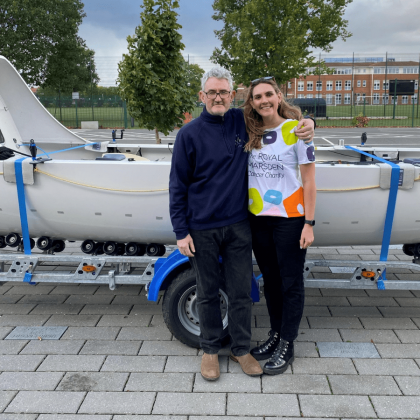 Charlotte, Abby and Kat aim to set a new world record for fastest female trio to row the Atlantic ocean; the record currently stands at 49 days. 
"We set off on the 12th of December and will be living on our 7.6m (25ft) boat called Dolly Parton, rowing continuously, with two hours on and one hour off for each rower. We hope to complete the race in under 49 days!"
It sounds ridiculous, but we're quite looking forward to getting on the boat and putting into practice what we've been training to do for nearly two years."
Spending Christmas at sea
"We spent the final few weeks before we left celebrating an early Christmas with our family and friends. It may sound scary to others, but we can't wait for it to be just us and the ocean. We've already got tinsel and a special chocolate bar ready for Christmas and New Year at sea and we'll be having our own unique celebration." 
Charlotte and her team set off from the Canary Islands on the 12th of December. To find out more about Team ExtraOARdinary and sponsor Charlotte click here. 
Sponsor Charlotte and she rows the Atlantic for cancer research this Christmas