Running every tube line for The Royal Marsden Cancer Charity
Following his friend's treatment at The Royal Marsden, Ray was inspired to take on an unusual fundraising challenge. Here he shares his experience of running all eleven tube lines in London.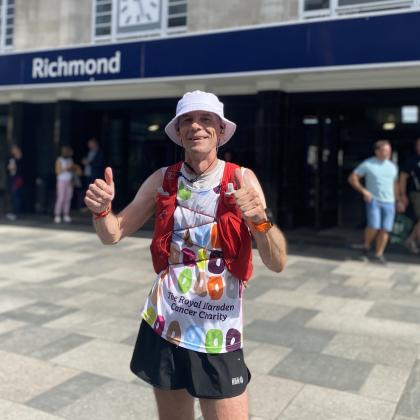 Inspired by the care his two friends received at The Royal Marsden, Ray Wise, 56, has run the length of all 11 tube lines – 280 miles – to raise money for The Royal Marsden Cancer Charity.
IT manager Ray, from Tottenham, started the challenge back in 2016 when he ran the length of the Victoria Line. In December 2021 he completed his final run which following the Central Line, setting out in West Ruislip and ending around 40 miles later in Epping. So far, Ray has raised £3,312 and is aiming to reach at least £4,000.
Running the length of all eleven tube lines
Ray chose to fundraise for The Royal Marsden Cancer Charity after a close friend was diagnosed with a blood cancer and treated at The Royal Marsden in 2016. In 2020, another friend of Ray's received treatment at the hospital. Ray said: "Both have sung the praises of the hospital's wonderful staff and facilities". 
Having previously completed half, full, and ultra-marathons, Ray wanted to pursue a new goal and decided to run the length of all eleven tube lines after running home from Tottenham Hale. He planned the routes by logging all the stops on each line on his Strava account, and he always took the longest route.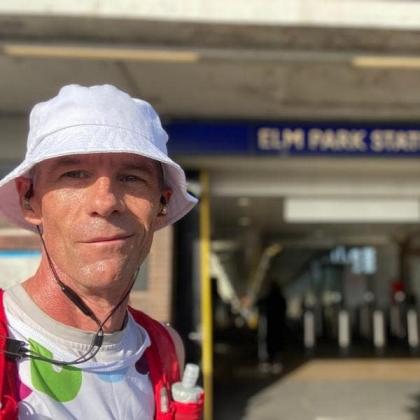 Ray said "This challenge has been really fun and, while I'm probably not ready to be a Green Badge Guide quite yet, I could probably point you in the direction of most places in London.  
The most enjoyable route was the Metropolitan line. It starts way out at Chesham – which is the furthest stop from the centre of London – so I saw lots of countryside and parts of the city's outskirts I'd never seen before. On the other hand, I'm a bit sick of Kings Cross now, having had to run through the area six times!"
Antonia Dalmahoy, Managing Director of The Royal Marsden Cancer Charity, said "It's thanks to our incredible supporters that we're able to keep looking for ways to improve the lives of people affected by cancer, and their creative fundraising challenges keep us all inspired and entertained. The money Ray has raised with this epic challenge across every corner of London will help The Royal Marsden to continue to deliver the very best research, treatment and care, helping patients not just here, but across the UK and around the world."
Ray is now planning to run the Thames Path, which is around 184 miles, for The Royal Marsden Cancer Charity next year. 
You can follow Ray's fundraising efforts and donate on his fundraising page.
Could you take on a fundraising challenge for us?