Siblings' double marathon raises over £57,000 for The Royal Marsden Cancer Charity
This summer, Reece, 9, and Emilie,7, each ran a marathon over their school summer holidays to raise funds after their dad Mark began treatment at The Royal Marsden for stage 4 pancreatic cancer.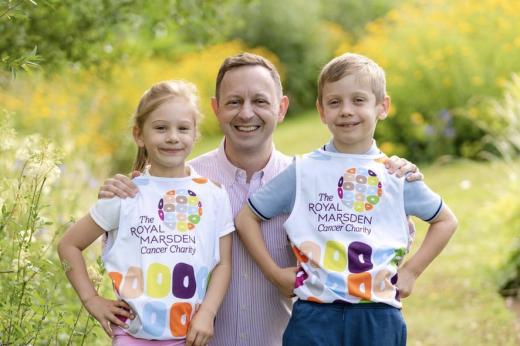 In March 2022 Mark, 37, was diagnosed with stage 4 pancreatic cancer.
He was referred to The Royal Marsden and began treatment under the care of Consultant Medical Oncologist Professor David Cunningham.
Mark said, "Since my diagnosis, our children have been incredibly caring and have shown great resilience. Reece and Emilie's instinctive response to their difficult situation has been remarkable. They insisted on doing something to raise money for cancer research. Together, we came up with the idea of a running challenge, where Reece and Emilie would each run the equivalent of a marathon over the course of their school summer holidays.
"They began running in July 2022 alongside my wife, completing around half a mile each morning, even during a heatwave. The challenge they set themselves placed them outside of their comfort zones, but they embraced it and showed great determination, often pushing themselves to keep on target. I think the physical challenge has helped them to channel their feelings into something positive."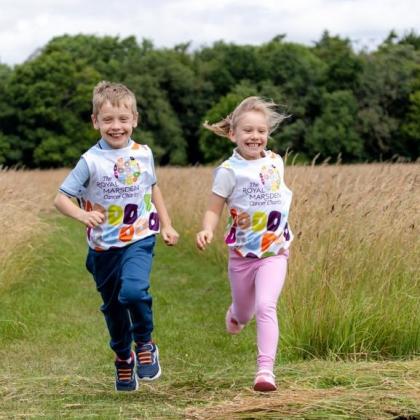 Reece and Emilie finished their epic running challenge on September 2nd outside The Royal Marsden Hospital in Chelsea. They were cheered on along their last quarter mile by Royal Marsden hospital and charity staff.
Between them they have completed an incredible 52 miles over their school summer holidays and their fundraising stands in excess of £57,000, with more still to come in.
"The initiative has given our entire family a much needed positive focus during this difficult time. The success of the fundraiser far exceeded our expectations - we've been overwhelmed by the support and generosity of our community. We are very pleased to have raised such a fantastic sum of money for this important Charity and the vital work they do. Full credit must go to Reece and Emilie for driving the initiative!" says Mark. 
Find out more and support the Ryan family's fundraising on their Just Giving page.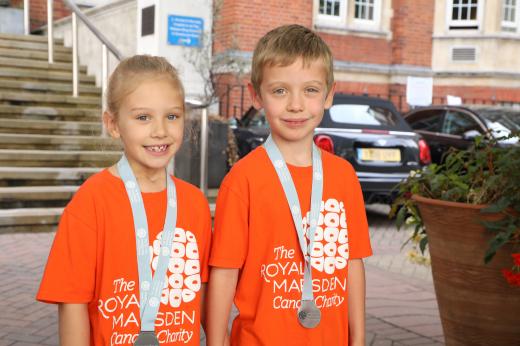 Signs and symptoms of pancreatic cancer - Mark's Story 
"I considered myself generally fit and healthy, with no previous health concerns or history of cancer in my family. Then, around Christmas 2021, I started having persistent, sometimes severe, abdominal pains. This developed into back pain, which is when I became growingly concerned." 
"I had some blood tests and scans carried out via my GP but nothing out of the ordinary was flagged up except for a potential gluten intolerance. However, this proved to be a distraction to the main issue as my symptoms continued despite removing gluten from my diet." 
"I was then referred to a gastroenterologist, which is when the tumour was identified. At this point we found out it was an advanced case of pancreatic cancer."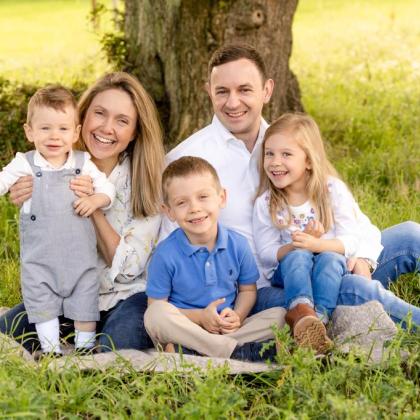 "I have been so impressed with the level of care and treatment I've received so far at The Royal Marsden; I honestly can't fault it. The treatment I am receiving is a combination of drugs known as FOLFIRINOX which I understand is the strongest form of chemotherapy available. The impact of the treatment has so far been very effective. My pain subsided within a matter of weeks and fortunately recent scans show continual progress.
Antonia Dalmahoy, Managing Director of The Royal Marsden Cancer Charity, said:
"We are so grateful to Mark, Reece and Emilie for supporting The Royal Marsden Cancer Charity with their challenge. It is a testament to their resilience and generosity as a family that they have chosen to dedicate their summer to this feat, focusing their energy on helping others who are facing cancer."
"Money raised for The Royal Marsden Cancer Charity helps to fund state-of-the-art equipment, ground-breaking research and the very best patient environments. This incredible fundraiser will make a real difference not only to cancer patients at The Royal Marsden, but across the UK and the world." 
Interested in fundraising for us?
From sponsored runs to cycle challenges, You can find the perfect fundraising event to suit you. Discover our fundraising events.
Discover more inspiring stories on our blog.