Supporting cancer patients throughout the pandemic
As we move towards the lifting of Covid-19 restrictions, we are reflecting on the ways in which our supporters helped The Royal Marsden respond to the pandemic.
Thanking our funders
Our wonderful supporters have been amazing, rallying around us when we needed them the most. This includes the G&K Boyes Charitable Trust, NHS Charities Together, Ralph Lauren, The Henry Oldfield Trust, The Lady Garden Foundation, Goldman Sachs Gives, Bridgepoint, Oak Foundation, The Reuben Foundation, The Joron Charitable Trust, The Laurence Misener Charitable Trust and many others who generously responded to our emergency appeal.  Thanks to our supporters, we raised £2m in emergency funds, which was used to support a vast array of different projects.
For example, we have funded counsellors who are providing psychological support for our patients and staff, while also enabling ambitious research projects looking at the impact of COVID-19 on cancer patients. We have helped to keep patients safe from COVID-19 by enabling consultations to be delivered remotely. We have also sped up the hospital's in-house testing programme by funding new machines.
The pandemic has presented many challenges to cancer patients, but donations made to our emergency appeal enabled The Royal Marsden to respond quickly. The following three examples show how the generosity of our supporters have enabled the hospital to continue delivering an excellent service for cancer patients throughout the pandemic.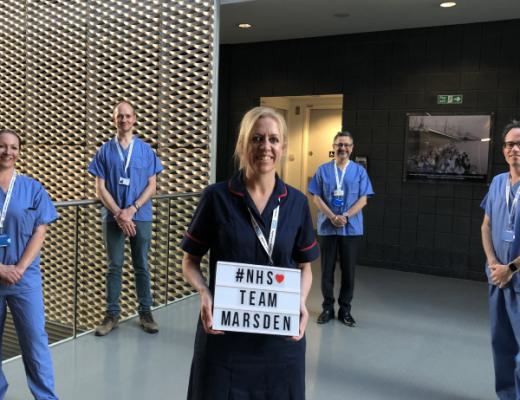 Psychological support
A cancer diagnosis and the treatment required is very stressful even in normal times. Experiencing this during the uncertainty of a pandemic, and not being able to see friends and family for support, has made the situation even more difficult for many patients at The Royal Marsden.
Throughout the pandemic, an average of 87 patients per month have been referred to our charity-funded psychological support team – an increase of around 30%.
Thanks to donations from our generous supporters, we were able to expand the team of specialist counsellors to provide patients with the support that they needed to get through such a difficult time. The following feedback from patients demonstrates the importance of this support and the difference that it can make to people's lives.
"A huge thank you for today and for quite rightly stepping in at the point you did to help prevent things from snow-balling...Thank you for getting me a place on the mindfulness course, I am over the moon."
"Thank you very much for your time and kindness. I will continue to work on my self-compassion.  Many thanks for coming into work to keep the service running despite all the difficulties and the risks under the current situation. Stay safe."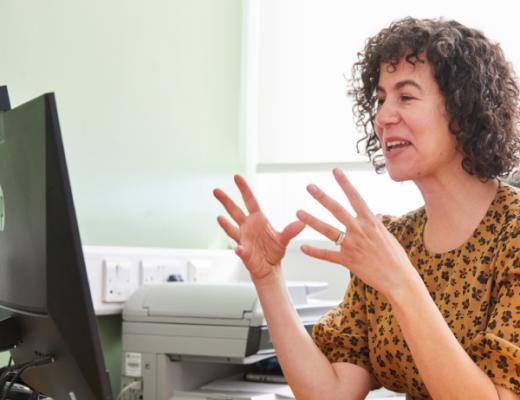 Being there for our patients 
In order to control the virus and lower the risk of infection, The Royal Marsden had to significantly reduce footfall within the hospital by banning visitors and cancelling many face-to-face consultations. Thanks to the emergency appeal, we have been able to support a number of initiatives that helped lessen the impact of this change on patients.
For instance, WiFi on hospital wards was upgraded and a number of iPads and laptops were purchased.
With this technology, clinicians can carry out virtual consultations, and patients are able to stay in touch with family and friends using video calls whilst visitor restrictions remain in place.
Funds have also paid for new online resources to prepare patients for surgery and innovative new technology, the HoloLens Device and Remote Assist (HLRA), which enables consultants to involve other clinical teams virtually in their ward rounds.
In addition, donations from the appeal have allowed The Royal Marsden's Mobile Chemotherapy Unit (MCU) to keep running. The MCU travels to supermarkets and parks in Sutton, Epsom and Croydon and is now able to deliver both immunotherapy and chemotherapy treatment to patients in the community.
Keeping our staff and patients safe
Throughout the pandemic, The Royal Marsden has focused on continuing to deliver vital cancer services as safely as possible. To support these critical services, donated funds were used to purchase two COVID-19 testing machines. The first, housed in our Chelsea site, was purchased in July 2020 thanks to a United Way Worldwide grant on behalf of the generosity of The Ralph Lauren Corporate Foundation. The second was purchased in November 2020 thanks to a grant from NHS Charities Together and donations from many other generous supporters.
These machines give both our Chelsea and Sutton sites access to same-day testing, a vital resource required to protect our vulnerable patients from those who have the virus. To date, we have delivered over 5,400 tests, enabling us to quickly restrict those who have the virus from accessing our covid-secure areas. This enabled the hospital to continue delivering life-saving treatments and procedures while also keeping our patients as safe as possible.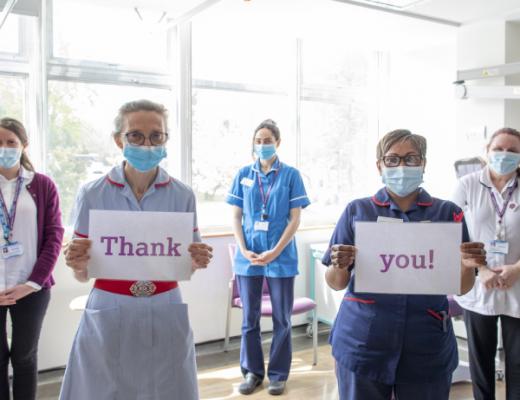 Thank you
A huge, heartfelt thank you to everyone who has supported The Royal Marsden Cancer Charity throughout the pandemic. The funds raised have made a genuine difference to cancer patients at The Royal Marsden during this very difficult time.
Find out more
Find out more about our work to support the vital and life-changing research, treatment and care of The Royal Marsden.