Volunteering for The Royal Marsden- Pearse's story
Here we share the story of one of our amazing volunteers, Pearse, who has supported the Charity for the past 18 years.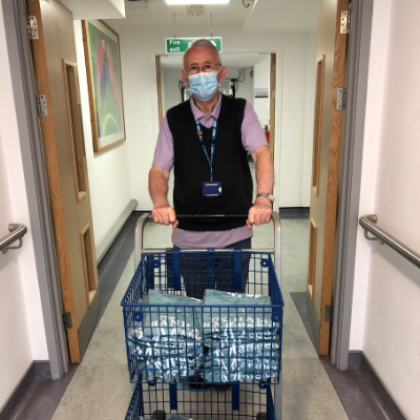 Volunteering in retirement
"I always knew I wanted to do something useful with my time after I retired, and I thought volunteering at a hospital would be good. Little did I know it was going to be at The Royal Marsden. Soon after my wife, Theresa, and I retired in 2002, Theresa was diagnosed with lung cancer. We discovered the cancer had spread and were referred to The Royal Marsden in Sutton for treatment. Unfortunately, there was not much that could be done, and seven months later she passed away.
The following year I decided that in Theresa's memory I would start volunteering in Sutton for The Royal Marsden Cancer Charity. Now 18 years on, it has become a huge part of my life. Not only am I doing something positive to help the hospital, I have also made lots of great friends as a result.
There is a huge variety of ways you can get involved when volunteering for the Charity. Over the years I have helped at local events and have taken part in collections for donations at local supermarkets. On a couple of occasions, we even got to do collections at Harrods. I also support the Charity team in the office by doing stock counts and filing.
At the height of the pandemic and due to restrictions, I sadly had to stop volunteering at the hospital for a little while. However, I have recently returned and over the past few weeks I have been assisting with meeting and greeting patients entering the hospital, taking temperatures, and helping to keep everyone safe.
One of my favourite jobs is helping to get the Oak Centre for Children and Young People ready for Christmas. Each year I help decorate the Christmas trees, and wrap all the presents for the children to open on Christmas Day. It feels very special to be able to help with this and I look forward to it every year.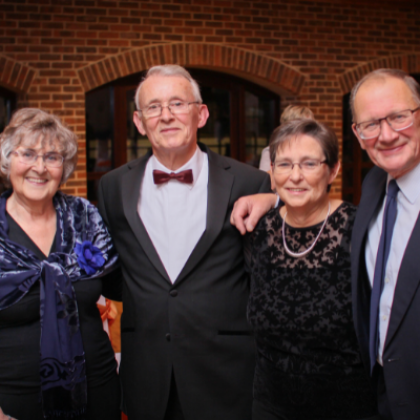 Fantastic friendships
I feel incredibly fortunate to have made such great friendships through volunteering. Before the pandemic we would all get together for lunch, but even throughout lockdown we have kept in touch. A few of the volunteers would come to visit me at home to see how I was doing, and sometimes they would even help me with my groceries. I would pop chairs outside the front of my house and we would have coffee and a good chat together.
I am willing to do whatever I can to help the hospital. My hope for the future is that researchers find the answers to prevent this wicked disease, and the sooner the better. It is a huge motivator for me and I will continue playing my part, encouraging people to donate and support the Charity for as long as I can, because it all makes a huge difference. Thanks to our researchers we have already made such great progress, but there is still so much more to do and research is how we will get there."
A huge thank you
Volunteers are at the very heart of all we do at The Royal Marsden Cancer Charity and we could not achieve all we do without their invaluable support. Our amazing volunteers help ensure we can continue to make a difference to the lives of cancer patients at The Royal Marsden and around the world.
If you are interested in helping support our work please get in touch with our team to find out more about how you can get involved when all our volunteering services resume [email protected]
Read more stories on our blog