Volunteering for The Royal Marsden - Tony's story
Here we share the story of one of our amazing volunteers, Tony who has supported the Charity for the past 25 years.
In the mid 90's, my wife Ann was diagnosed with breast cancer. We were living in Hove at the time and she was treated at our local hospital, undergoing a mastectomy. Shortly after her surgery, the cancer came back. We were told that there was nothing else they could do and that she was in for a very rough time.
We came to The Royal Marsden in Sutton for a second opinion and Ann saw Professor Stephen Johnston who reassured us that there were other options that could be explored that could potentially keep Anne alive for another seven years. That was really the start of our Royal Marsden journey.
Taking part in the Monte Carlo car rally for The Royal Marsden Cancer Charity
Whilst Ann was receiving treatment at the hospital, we decided we wanted to raise money to support The Royal Marsden. It started with sponsorship through my car rallying and the first event we did raised around £1000 which we were really chuffed about.
Around this time I had a phone call from another Royal Marsden Cancer Charity supporter, Phil Swain, who had read my article in one of The Royal Marsden magazines and also wanted to raise money in memory of his wife who had been treated there. Together we set up a committee so we could raise more money and we established the Ann Rose Monte Cancer Challenge; we continued to take part in the Monte Carlo car rally for the next 10 years. We also organised a Ball annually at the Grand Hotel in Brighton as well as a fashion show which was even covered by the local newspaper! From our first fundraiser in 1999, it all went from strength to strength.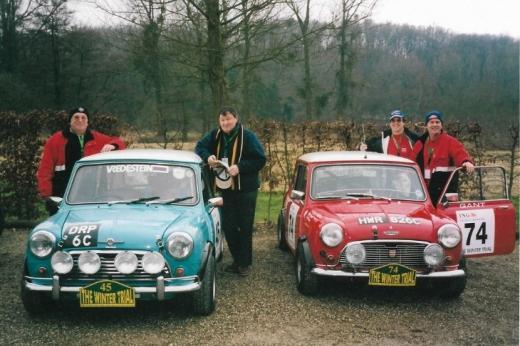 Ann sadly passed away in 2001. My friends and family were so invested and enthusiastic about the fundraising that we carried it all on for another three years. From when we started supporting The Royal Marsden in the 90's until around 2004, we raised over half a million pounds.
Reasons why I love volunteering for The Royal Marsden Cancer Charity
After Ann passed away, most of us in the charity committee were into our 70s and had retired from work. When the committee stopped, I carried on supporting The Royal Marsden Cancer Charity with fundraising and volunteering. I've supported the annual Banham Marsden March as a volunteer driver to ferry the photographers along the route to capture photos of the day.
My main volunteering role now is with tin collections in local cafes. I collect these every two weeks and there is usually around £100 in there.  This is my favourite part of volunteering; I get such a buzz out of seeing how much money has been raised and how heavy the tin is when I collect it.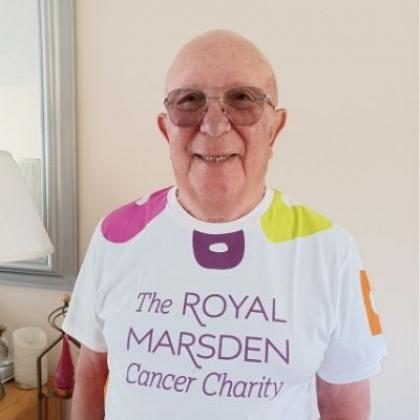 I would say to anyone that every penny you raise is important to The Royal Marsden and volunteering is such a worthwhile and rewarding job. I really enjoy my volunteering and having a personal connection to the hospital really drives me to help. I would absolutely recommend getting involved in volunteering for The Royal Marsden Cancer Charity.
Without The Royal Marsden, I wouldn't have been able to spend all that extra time with my late wife.
A new personal connection - Becoming a patient at The Royal Marsden
I never dreamed it would happen to me but I've now also been treated at The Royal Marsden for both skin and prostate cancer – it's almost like my second home, I think it's the bees' knees. This happened around 2004, after Anne passed away.
After going to the GP to get checked out, I had a biopsy taken and received a diagnosis of prostate cancer. The specialist said that luckily the cancer was slow growing and I was referred to The Royal Marsden where I had radiotherapy and hormone therapy. The skin cancer was on my arms and I had surgery to remove it.
Despite two cancer diagnosis and having recent open heart surgery, I'm now doing well and pleased to say my PSA levels are continuing to show as low (A PSA test looks at the level of prostate specific antigen present in the blood and can help to detect prostate cancer).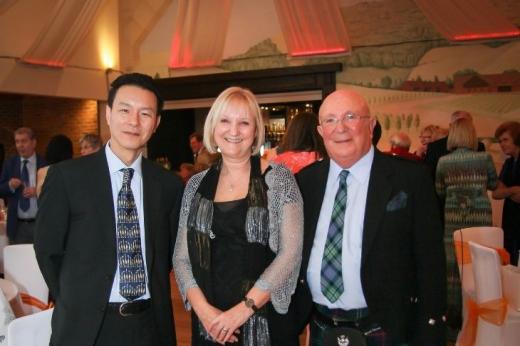 New beginnings through volunteering
I remarried in 2005 and met my wife Marion through fundraising for The Royal Marsden Cancer Charity in Sutton high street. We got chatting and the rest is history! She was actually working at The Royal Marsden in Sutton at the time. She's retired now and helps me with my volunteering doing raffles and helping out on the stalls at fairs. I feel incredibly lucky to have met such wonderful people whilst volunteering.
The Royal Marsden will always have a very special place in my heart. I'm now 82 but am keen to carry on volunteering for as long as I can to do anything I can to help this special place.
Interested in volunteering for us?
If you're interested in volunteering for The Royal Marsden Cancer Charity you can find available roles on our current vacancies page or get in touch with our team at [email protected].
Discover more inspiring stories on our blog