Like father, like son
Fathers, sons and mentors team up to raise awareness of male cancers and raise money for The Royal Marsden Cancer Charity
Father and Son Day was set up in 2014 by Daniel Marks and Jack Dyson, two friends who both survived testicular cancer, and whose fathers have also had cancer.
Throughout June, with a focus on Father's Day, the campaign encouraged men to share pictures of themselves with their inspirational dads, sons or mentors and donate to the charity.
You can see the pictures by searching #FatherAndSonDay on Instagram, Twitter and Facebook. Celebrity supporters like actor Larry Lamb and his radio/tv presenter son George (pictured above), were among the many men who got involved.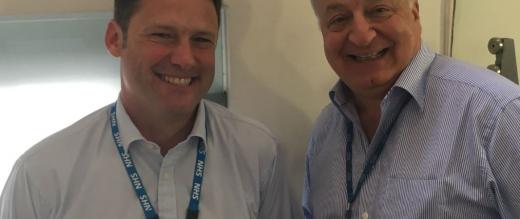 A tale of two doctors
The campaign is not just about fathers and their sons but also about men and their mentors. In 2017 Dr James Larkin, Consultant Medical Oncologist, and his mentor Professor Martin Gore, Consultant Medical Oncologist and former Medical Director, both at The Royal Marsden, took part.
Martin motivated me as a junior doctor in 1999 to pursue a career in oncology. I'm not alone: a generation of doctors and scientists have been inspired by his commitment to improving treatment for cancer and his unwavering dedication to patients, the Marsden and the National Health Service.

After completing my training I was lucky enough to join Martin as a Consultant treating melanoma and kidney cancer. We still talk almost every day and I'm still learning from him, not least in trying to be as effective a mentor as I can for doctors in training.
Since 2014 Father and Son Day has raised
over £100,000
to help fund the UK's first Robotic Surgical Fellowship programme
Support our work
Vital funding from initiatives like Father and Son Day means our researchers can continue to find better treatments for male cancers and our doctors like Martin and James have the support they need to help more people with cancer every day. Your donation can help us to continue this important work.