Looking back at Pink Pony Month
Every October, Ralph Lauren Corporation runs its global Pink Pony campaign to raise funds and awareness around cancer. Here, we look back at successes of 2019's campaign.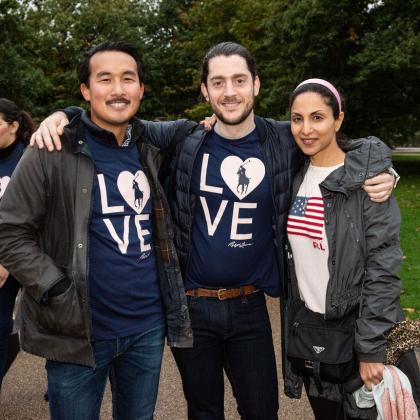 During October, The Royal Marsden Cancer Charity was delighted to announce the next phase of our longstanding partnership with Ralph Lauren Corporation - Ralph Lauren has pledged £1 million towards the Oak Cancer Centre appeal. Support for this new pledge will come from a range of activities involving staff and customers across Europe; from product sales and in-store donations to employee fundraising events.
This new stage of the partnership kicked off with 2019's Pink Pony Month, a globally-recognised campaign that takes place each October, so here we take a look back at how staff and customers took part in the month's exciting range of activity.
Team Ralph Lauren
Ralph Lauren staff from stores and offices came together to raise money and awareness during the month, including staff in cities across Europe taking part in regional Pink Pony walks.
Colleagues also organised a range of fundraising events – from silent auctions and sample sales to bake sales and raffles. In London, a team of Ralph Lauren runners took part in the Royal Parks Half Marathon, contributing to UK staff raising more than double what they raised last October, a fantastic achievement to kick start the next stage of the partnership.
During the month, staff also had the chance to hear more about the difference that their support of the Oak Cancer Centre will make for patients around the world.
Conversations and customer support
This year's Pink Pony campaign focused upon creating authentic conversations around cancer with the aim of promoting a supportive community. In line with this, a series of podcasts was launched in collaboration with The Conduit, with representatives from The Royal Marsden amongst those interviewed. The podcasts aim to share powerful stories from patients, insights from experts and inspiration from philanthropists. Conversations also continued digitally via an Instagram campaign, led with support from influencers, which saw a donation being made for each post that shared a cancer story.
Customers were able to support the partnership through purchasing products from the new range of Pink Pony merchandise as well as having the chance to donate at till points in selected stores. For the first time, a contactless donation point was installed at stores on New Bond Street and Regent Street to enable customers and passers-by to donate with a just a tap of their card.
Ralph Lauren Corporation's support of research at The Royal Marsden
The money raised towards this pledge will fund a Research Zone within the Oak Cancer Centre. The Ralph Lauren Research Zone will accommodate 80-100 researchers who will not be confined to a single desk or area but will mix with colleagues from different tumour specialities on a daily basis. This lack of physical barriers will encourage an open and integrated way of working, with collaboration and break-out areas to provide quiet and private spaces to meet when needed.
In 2016, the Ralph Lauren Centre for Breast Cancer Research was opened at The Royal Marsden in Chelsea by HRH The Duke of Cambridge and Mr Ralph Lauren. The Ralph Lauren Research Zone will continue the brand's commitment to supporting groundbreaking research, with the aim of making a difference to cancer patients at The Royal Marsden and around the world.
Antonia Dalmahoy, Managing Director of The Royal Marsden Cancer Charity said:
 
Ralph Lauren Corporation has been an incredibly significant partner of The Royal Marsden Cancer Charity for many years and it means a huge amount to us that they have now committed to support our Oak Cancer Centre Appeal. We are thrilled to have Ralph Lauren colleagues across Europe by our side as we build this revolutionary new Centre which will help speed up progress in cancer research, drive new treatments forward and make a vital difference for thousands of patients every year.
Take a look at some images from October's activity below