Ten ways you can help this Giving Tuesday
This Giving Tuesday there are lots of different ways that you can get involved in supporting the work of The Royal Marsden Cancer charity. We have put together a few ideas for you below:
1. Volunteer your time. There are lots of different ways to get involved with volunteering, whether you go out to speak to local schools or businesses about the charity or help out with collections at events. Get in touch with us to find out more.
 
2. Fancy doing something a bit more active? From marathons to abseils, we have lots of different events you can get involved. Whether you are a seasoned athlete or just a beginner, take a look at all of our challenge events. 
3. Want something a bit less energetic? Why not run your own fundraiser event, whether you do a bake sale, sweepstake at work or even a festive quiz. We can provide lots of support and materials to help you. Read our fundraising tips and let us know your plans. 
 
4. Make a donation to our Christmas appeal, find out about Izzy who is being treated at the Oak Centre for Children and Young People. Your gift will allow us to help more people like Izzy who have been affected by cancer.
 
5.Treat yourself with Philip Kingsley. 
Since 2016, we have worked with leading hair care brand Philip Kingsley, each June they have run a campaign to support research at The Royal Marsden Hospital. This year sees our first Christmas collaboration, for every product sold on their online UK store on 3rd December, £1 will be donated to The Royal Marsden. Please visit  their website to browse their range of products. Thank you to Philip Kingsley for their continuing support.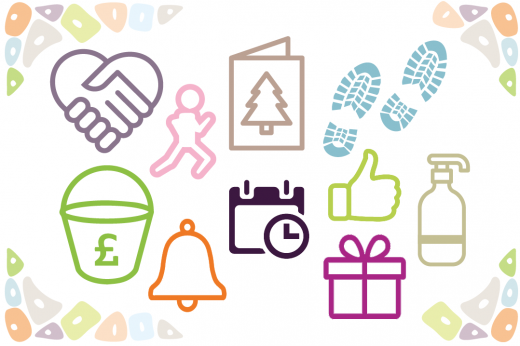 6. Support us with the monthly donation. We believe that if cancer is ever truly going to be stopped, it's going to be stopped here at The Royal Marsden.
But we can't do it without your help. So if you want to make a world of difference to people affected by cancer, join our team today by setting up a monthly gift.
 
7. Find out more about our work and sign up to our newsletter. We will send you regular updates about how we are supporting the hospital, stories of patients and ways that you can get involved with the charity. It only takes a minute why not sign up today.
8. Sign up and join us on the The Banham Marsden March, every year since 2011 thousands of people take part in a walk between our two hospital sites. You'll find patients, families, supporters of the hospital and Royal Marsden staff all taking part and fundraising. Next year is the 10 year anniversary and promises to be bigger and better than ever before! Register today to join us. 
 
9. Buy something from our Christmas collection. From Christmas cards to magic reindeer food we have a great selection of festive goodies for you to chose from. Make sure you order before the 6 December to ensure they arrive before Christmas.
10. Finally why not get involved online, make sure you follow our social media channels across Facebook, Instagram and Twitter. Don't forget to Like, comment and share our stories with your networks and join in with #GivingTuesday.