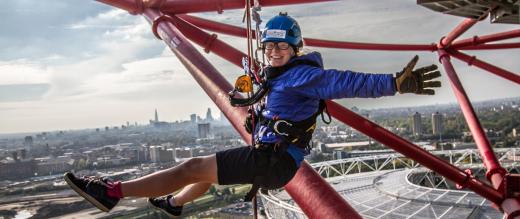 ArcelorMittal Orbit Abseil
Do something amazing. A 262ft abseil down the UK's tallest sculpture – the ArcelorMittal Orbit.  Enjoy breathtaking 20-mile vistas across London before you step off the viewing platform and boldly make your way down to solid ground.
Event details
Fundraising target
£200.00
Take the UK's tallest sculpture. A 262ft abseil. And you. 
Do something amazing. Why not take on this exciting abseil challenge and help ensure our expert nurses, doctors and research teams can provide patients with the very best care and develop life-saving treatments that are used across the UK and around the world. 
The ArcelorMittal Orbit sculpture in the Olympic Park in East London is Britain's tallest sculpture designed by Anish Kapoor and this is one heck of a way to experience it.
So what have you got to lose? Sign up today. We promise you're not going to regret it. 
Interested?
If you fancy having a go at the ArcelorMittal Orbit abseil sign up below!