Christmas skydive
Looking for your last challenge of the year? Well put on your best Christmas outfit and experience the thrill of free-falling at over 120mph through the air!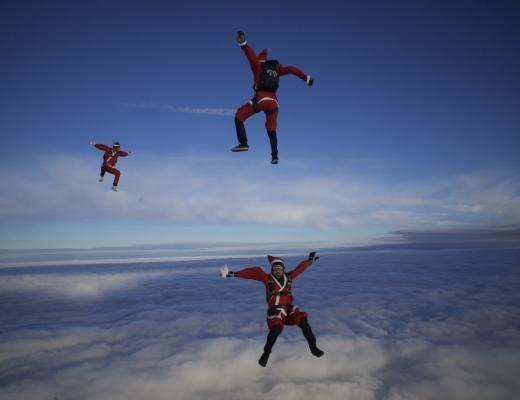 Event type
Parachute Jump
Fundraising target
£395.00
Take to the skies dressed in your favourite festive costume!
Whether you're a newbie or an experienced adrenaline seeker, enjoy the euphoria of flying through the clouds while observing beautiful landscapes for a once-in-a-lifetime adventure this December. 
Choose your ideal date and airfield, and skydive this holiday season with Team Marsden. Spaces are limited so sign up now to get the date and airfield your prefer!
Dates and airfields available:
Auchterarder, Perthshire – weekend dates from 2–17 December 2023.
Brackley, Northants – Tuesday to Sunday 2–17 December 2023.
Brigg, Lincs – any Wednesday to Sunday in December until 17 December 2023.
Lancaster, Lancs – 1, 2 and 3 December 2023.
Netheravon, Wiltshire – any Friday to Sunday in December until 10 December 2023.
Norwich, Norfolk – any Friday to Sunday in December until 17 December 2023.
Nottingham, Notts – any date in December apart from 25–26 December 2023.
St Andrews, Fife – any Saturday and Sunday in December until 16 December 2023.
As part of Team Marsden you will also receive:
a fundraising pack
a charity t-shirt for you to wear on the big day (if you decide to forgo the festive costume!)
dedicated fundraising support and advice to help you reach your fundraising target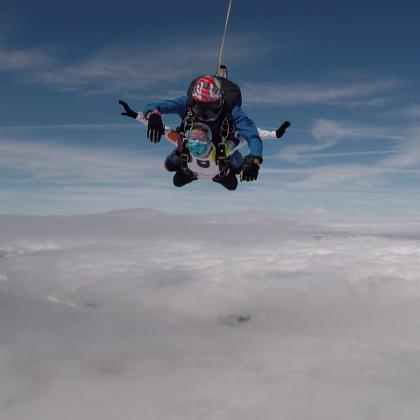 What's skydiving really like?
Stephanie took part in a charity skydive earlier this year and has shared with us what it really feels like and why you should take the plunge and get involved:
"Jumping out of the plane never felt safer as I was strapped to an instructor who had experienced over 6000 jumps.
 Looking at the view was the most rewarding part and knowing I'd done all of this for such a worthy cause was the icing on the cake.
If you're thinking about taking part in a skydive, I would say without a shadow of doubt, do it. I was very nervous the night before but the adrenaline kicks in and the cause gets you through the fear.
What better way to tick something off on your bucket list than to help such an incredible cause in the process."
Watch Stephanie's Skydive!
Watch charity supporter Stephanie take to the skies for The Royal Marsden Cancer Charity.