Walk 60 Miles in July
Join our supportive online community walking for fun, fitness and for The Royal Marsden Cancer Charity from 1-31 July.  
Join us and Walk 60 Miles in July.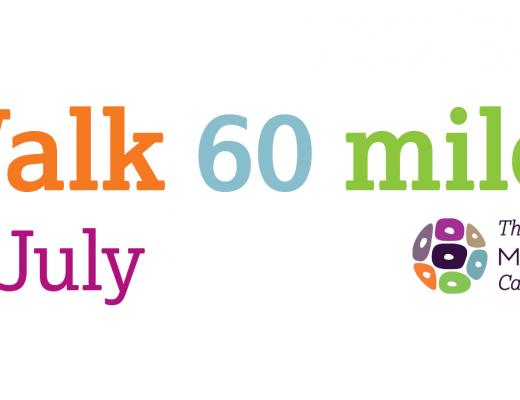 Fundraising target
£150.00
How to get involved
Join our Walk 60 Miles in July Facebook group here.
Set up your Facebook fundraiser and spread the word on your amazing challenge
Request your free Royal Marsden Cancer Charity t-shirt (you can do this on the Facebook group)
It's as simple as that! Join our friendly and supportive online community for training advice, fundraising tips and lots of encouragement to help you complete your miles.
You'll receive a free fundraising pack which contains:
T-shirt – pop it on and share a selfie in the Facebook group to say hi!
Mile tracker – pin it on your fridge and tick off those miles
Sponsor form – use this to collect donations outside of Facebook
Your fundraising
The money you raise will help fund pioneering cancer research. The Royal Marsden is leading the way in cancer research, with 800 clinical trials open at any one time and 42,000 patients from across the UK taking part in trials. Feel fitter and fundraise for cancer research this summer. 
We're here to support you!
We'll be behind you every step of the way and if you have any queries, please feel free to pop them in the Facebook group.
Be part of our Facebook group
Join our Facebook group for information, top tips and support from our brilliant online community