The Banham Marsden March at Home: Together we walk
Will you walk 5 or 15 miles in your local area on Sunday 23 May and help to build hope for cancer patients?
There is still time for you to get active and support cancer patients wherever you are by signing up to take part in The Banham Marsden March at Home.
Help us build the Oak Cancer Centre
When you take part in The Banham Marsden March at Home, you'll be helping to raise vital funds for the Oak Cancer Centre.
This brand-new centre in Sutton will mean we can double our diagnostic capacity, allowing us to diagnose patients earlier and save the lives of more people like Russell.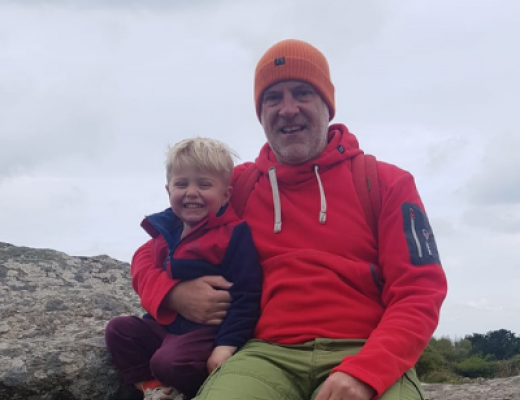 Russell said:
"I have a family history of bowel cancer. I lost my great grandfather, grandfather and great uncles to the disease, and finally my own father also sadly passed away in 1991.
Tests on my father's tumour at The Royal Marsden revealed that he had Lynch syndrome, which causes an increased risk of certain cancers. It is an inherited condition, and I later found that I also have it.
With my family history and Lynch syndrome, the odds of me getting cancer were high.
I know that early diagnosis makes a huge difference to survival rates for bowel cancer, so when The Royal Marsden immediately put me on a regular screening programme, I was glad.
As part of the programme, I had colonoscopies every 18 months, to try to catch the cancer early if it were to develop.
In August 2018, my regular tests revealed that I did have cancerous growths in my bowel wall, and I was diagnosed with bowel cancer.
I was able to get keyhole surgery straight away to remove part of my bowel, and I'm doing well today.
Getting my diagnosis as early as possible and discovering I have Lynch syndrome, has saved my life. I have peace of mind that we've stopped history repeating itself, and I can be there for my son Freddie and he will be much more aware and monitored as he gets older too."
Sign up to the Banham Marsden March at Home on Sunday 23 May and help improve the chances of survival through early diagnosis, for many more patients like Russell.
Please note, as Sunday 23 May is now just around the corner, it's unlikely you'll receive your free t-shirt and cap in advance of your walk. We'd still love for you to join us to help raise vital funds, and we'll send a t-shirt and cap to you afterwards, to keep as souvenirs instead.
Read more stories on our blog