A game changing immunotherapy treatment saved my life
In 2018, cancer left Bob Pain using a wheelchair. But after immunotherapy treatment, he was able to walk a mile a day for The Royal Marsden Cancer Charity.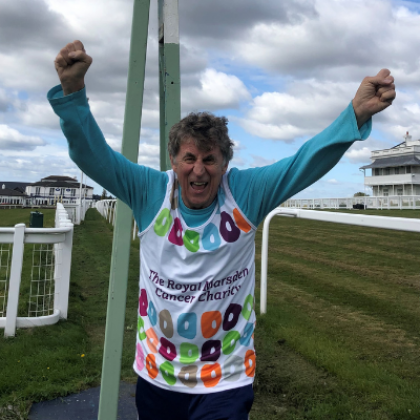 Bob was first treated for lung cancer at The Royal Marsden in 2015. It returned in 2018 and had spread to his liver and bones. Then, Bob was treated with an immunotherapy drug which had been approved thanks to research and trials undertaken at The Royal Marsden.
Now, four years on from his diagnosis, Bob has become a passionate fundraiser for The Royal Marsden Cancer Charity and has shared his inspiring story with us. 
Bob's lung cancer diagnosis
Bob Pain was first diagnosed with lung cancer in 2015 after scans picked up a shadow on his left lung. He had half of the lung removed and was then referred to The Royal Marsden for chemotherapy under the care of Consultant Medical Oncologist Dr Jaishree Bhosle. The treatment was a success. Two years of clear scans and good health followed, but in early 2018, Bob began developing more symptoms.
"I had been having bad aches and pains in my bones," he says. "Then on Good Friday, I fainted suddenly. I was taken to A&E but was told everything was fine. I was quite concerned and called my chest consultant, who organised a CT scan. The results revealed a mass on my left lung and liver."
The cancer had returned, and Bob was told he now had stage 4 lung cancer, which had spread to his bones and liver. "I was in a great deal of pain," he says. "I was using a wheelchair and struggling to get up the stairs and generally move around."
A game changing immunotherapy drug called pembrolizumab
That June, Bob began being treated with pembrolizumab – an immunotherapy drug that was approved to treat non-small-cell lung cancer and some other cancers, thanks to research that included trials at The Royal Marsden. He was also well as the targeted therapy denosumab to help strengthen his bones.
"The morale in the hospital is amazing and inspiring. You can just feel that buzz from all the staff no matter who they are, from the person who brings the sandwiches to the lady in charge of the PET scanner. I have never known any place like it. I think that rubs off onto the patients too, so that somewhere that could be depressing, and doom laden is actually very positive and uplifting."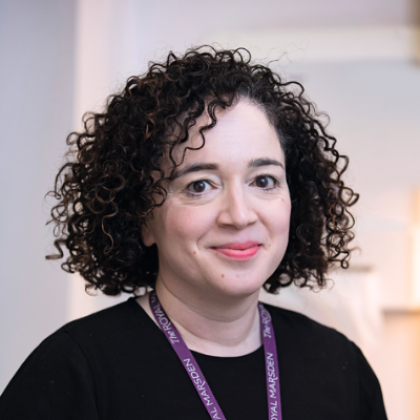 As with other immunotherapy drugs, pembrolizumab harnesses the body's immune system to attack cancer cells and tends to have fewer side effects than chemotherapy.
"Two months later, I had scans that showed the tumours in my lung and liver had reduced by half," says Bob. "I couldn't believe it. I had already started to feel better after the second treatment. I'd gone from crawling up the stairs to walking around, although I was a little wobbly.
"Over the last two years, scans have shown everything is clear, even in my bones. It's looking good. With stage 4 lung cancer, they don't say you are in remission, but this is the nearest equivalent." Bob finished immunotherapy treatment in August 2020 and continues to receive treatment to strengthen his bones.
From Patient to passionate fundraiser
Over the years, Bob has raised an incredible £15,000 for The Royal Marsden Cancer Charity by holding an annual Terrier Derby at Epsom Downs Racecourse as well as regular Vinyl Nights at his local pub The Bell (aka The Rat), in Walton on the Hill.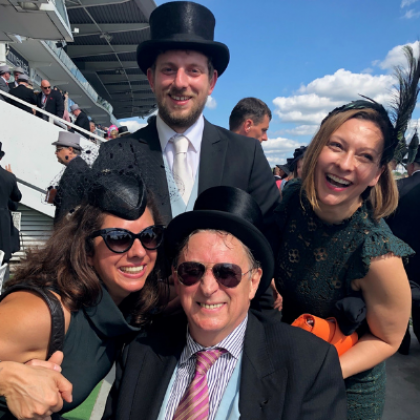 Unfortunately, due to the pandemic, the Derby couldn't run in 2020, so instead he took on The Marsden Marathon. That September, Bob walked 26 miles over 26 days – a feat that would have been out of the question just a few years earlier.
"It was a pleasure to take part," he says. "I walked laps around the racecourse, and my two Jack Russell terriers, Binky and Frank, kept me company."
"Three years ago, I was pretty much out of the game – but thanks to Dr Bhosle and the team, I am lucky to be around to do something to support the Charity."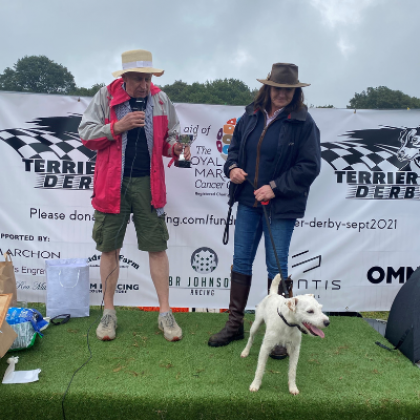 As for the Terrier Derby, the event continues to grow and grow.
In 2021, the Terrier Derby at Epsom Downs Racecourse saw over 60 dogs competing and hundreds of attendees showing up to support and contribute despite poor weather, raising an impressive £4,000 for The Royal Marsden Cancer Charity.
Find out more about the Terrier Derby here.
Thanks to the generosity of our supporters, we are able to continue to fund breakthroughs for people affected by cancer.