Help more people like Jenny by signing up to host your Marsden Morning
There is still time for you to sign up and get your FREE Marsden Morning kit which will contain everything you need to host a perfect Marsden Morning on 22 October
Host your own Marsden Morning
Sign up to host your own Marsden Morning on 22 October* or a date that suits you and help accelerate research breakthroughs which will help many more patients like Jenny. 
Help us build the Oak Cancer Centre
This brand-new centre in Sutton will accelerate research breakthroughs which will mean we can help more people like Jenny access pioneering new treatments.
Jenny was diagnosed with breast cancer in 2004. She was given a mastectomy and after treatment was given the all-clear.
Fifteen years later the cancer came back. But Jenny was given hope thanks to a ground-breaking new treatment approved for use by the NHS following clinical trials undertaken at The Royal Marsden.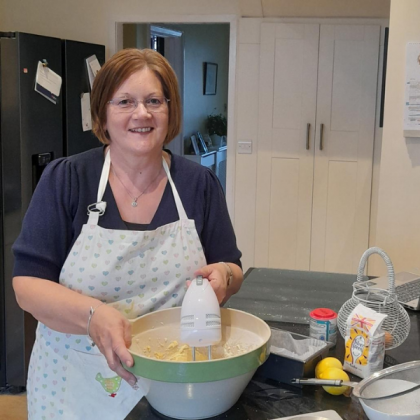 Jenny said: 
"In 2019, I started experiencing pains in my back and tingling in my legs. My GP sent me for a CT scan which found something worrying. I was referred to The Royal Marsden where further tests confirmed the cancer had returned and spread to my bones. A tumour was discovered on my spine, and I had an operation to remove the tumour and a course of radiotherapy. Further tests revealed that the cancer had also spread to my ribs, leg and skull and I was diagnosed with Secondary Breast Cancer. 
I was terrified, but once I had a plan in place, I felt reassured. I was told that the cancer could be treated for many years. I started taking a hormone therapy drug and bone-strengthening medication.
I was also given a new targeted drug called Palbociclib, which was originally trialled at The Royal Marsden. Amazingly, my scans are showing that the treatment is working, and my condition is stable. The tumours have either got slightly smaller or stayed the same.
Research is my lifeline, it means everything for people like me
I'll have secondary cancer for the rest of my life. That is why the research taking place at The Royal Marsden is going to make such a difference. I am very hopeful for the future as new treatments are being developed all the time.
Research gives hope to people with cancer. It is being with your family for longer. It is just marvellous.
This October I'm looking forward to hosting my Marsden Morning. I love to bake and will be inviting my friend's round to enjoy a slice of cake and raise money to help build the Oak Cancer Centre."   
*We recommend that you sign up by 12pm on 14 October so that we can guarantee your kit will arrive in time for your Marsden Morning on 22 October.