HRH The Duke of Cambridge lays foundation stone for state-of-the-art cancer research facility
The Duke of Cambridge attended a groundbreaking ceremony last month to mark the start of building works for The Royal Marsden's Oak Cancer Centre.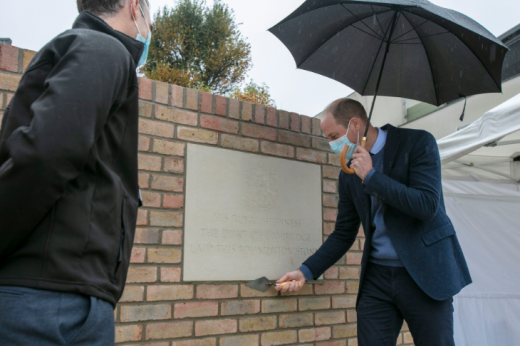 The Duke followed in his mother's footsteps by laying the foundation stone 30 years after Diana, Princess of Wales, laid a ceremonial foundation stone to commemorate the building of the Chelsea Wing at The Royal Marsden in Chelsea. The Duke has been President of The Royal Marsden for 13 years, a position previously held by his mother.
The Royal Marsden Cancer Charity has raised almost £62 million of the £70 million needed to complete the Oak Cancer Centre. Named after Oak Foundation who donated £25 million, The Royal Marsden Cancer Charity is now asking the public to help them meet the £70 million target by 2022, when the facility is due to open to patients.
Research into cancer treatment is at a turning point, where breakthroughs are starting to target molecular and genetic abnormalities, with less emphasis on the tumour's location in the body. It has already led to the discovery that drugs initially developed for melanoma patients are also effective in patients with bowel cancer whose tumours share the same genetic characteristics, and that drugs for prostate cancer can help some women with ovarian cancer. To make more progress like this, faster, it's vital for teams to swap ideas and clinical knowledge. The Kuok Group Foundation Research Centre in the new facility will bring together over 400 researchers under the same roof as patients and clinicians, in spaces designed to encourage collaboration and to put patients at the heart of research.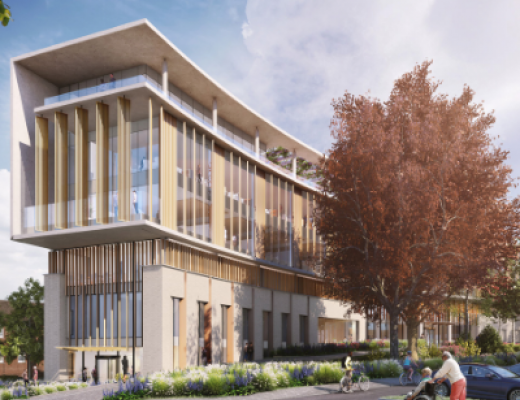 "My goal would be that in fifteen years' time, as a consequence of research undertaken in the Oak Cancer Centre, I can say to my patients that we have effective therapies to prevent cancer spreading in the first place. And if it were to spread, that we can realistically talk about cure of the disease for a majority of patients."
Professor James Larkin, Consultant Medical Oncologist.
During his visit, The Duke also met patients including Julie Balkwill, 65, from Wallington, Surrey. Julie said: "Thanks to research, I have been living with ovarian cancer for 18 years, living a good quality of life and feeling well. The trial drug that is currently keeping me alive also works for people with breast and prostate cancer if they have the same genetic mutation in their cancer as I have, so I am walking proof that we need cancer researchers to work across different types of cancer. While being under the care of The Royal Marsden I have seen both my children get married and my six grandchildren come into the world. This new centre will give other people like me in the future the same gift of life."
Dame Cally Palmer DBE, Chief Executive of The Royal Marsden, said: "Our Sutton hospital was opened by The Duke's grandmother, Her Majesty Queen Elizabeth II, 57 years ago. It remains an outstanding hospital but now it's time to modernise for the 21st century and build a state-of-the-art facility to complement the existing facilities and help us meet some of the most pressing challenges in cancer research and treatment today. I am delighted that our President, The Duke of Cambridge, joined us to launch the build of this Centre and the new generation of cancer treatment and to follow in the footsteps of his family. We are very grateful for his continued support for our patients and the work that we do. I'd also like to thank The Royal Marsden Cancer Charity and all its supporters, without whom this wouldn't be possible."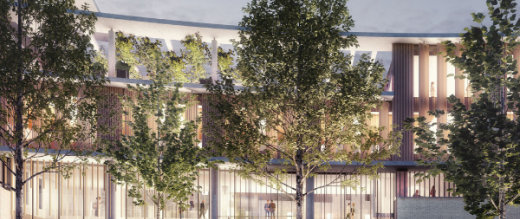 The Oak Cancer Centre will:
Accommodate researchers on one floor.
Be home to the Charles Wolfson Rapid Diagnostic Centre which will use the very latest technology to provide earlier and faster diagnosis for more people, helping to save lives.
Have a new Medical Day Unit that will enable patients to enjoy peace and quiet while receiving chemotherapy.
Have a new outpatients department where patients visiting will be able to undergo blood tests, see their consultant, and collect a prescription all on the same floor.
Have a suite of rooms designed for remote Skype consultations so that patients can avoid unnecessary trips to hospital.
The Oak Cancer Centre will help to build hope for people affected by cancer and speed up the development of new treatments for cancer patients throughout the UK and beyond. 
Thanks to our supporters
Major donors who have helped raise £62 million for the Oak Cancer Centre so far include:
Oak Foundation, whom the building is named after  
Mr Basil T D Larsen
Kuok Group Foundation (The Kuok Group Foundation Research Centre)
The Charles Wolfson Charitable Trust (The Charles Wolfson Rapid Diagnostic Centre)
Alex Beard & Emma Vernetti
The Royal Marsden Cancer Charity OCC £70 million Appeal Board:
Mike Slade OBE, Chairman
Baroness Bloomfield of Hinton Waldrist
Robin Broadhurst CVO, CBE
John Caulcutt
Richard Cormack
Irene Dorner
Robin Edwards
Andrew Fisher OBE
Simon Hall MBE
Peter Lord
Oliver Pawle
David Pettman
Jean-Robin Peters
Lord Rowe-Beddoe of Kilgetty DL  
David Williams
The Oak Cancer Centre building works are being carried out by ISG construction services
Support for the Oak Cancer Centre