Introducing The Banham Marsden March at Home
Will you walk 5 or 15 miles in your local area on Sunday 23 May and help to build hope for cancer patients?
This year, we are bringing our sponsored walk – The Banham Marsden March – to you at home. So you can get active and support cancer patients wherever you are.
Get involved in three steps
Sign up for your free t-shirt and cap*
Walk 5 or 15 miles near your home on Sunday 23 May
Get a free medal if you raise £150 or more*
Your support
When you sign up, you'll be joining an amazing community walking to raise vital funds for the Oak Cancer Centre.
This brand-new facility will speed up the translation of world-leading research into breakthroughs in treatment and care, transforming the lives of cancer patients like Valerie.
Valerie was diagnosed with kidney cancer in 2017 and benefitted from an immunotherapy clinical trial at The Royal Marsden.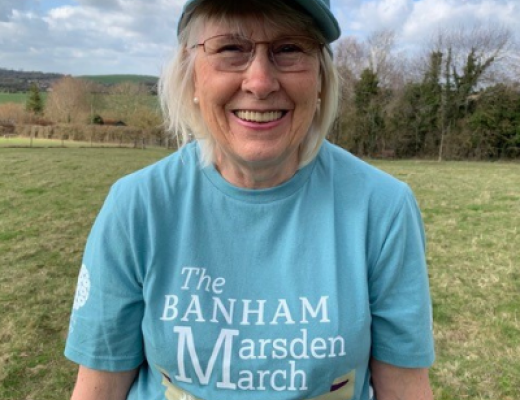 Valerie said:
"When I was diagnosed, I was told my cancer was incurable and that it was likely to be advanced and spread to my bones. It was a real shock to hear this and my family were very worried about me.
I was referred to Professor Gore at The Royal Marsden, who felt I was an ideal candidate for immunotherapy. I am always keen to try anything new and felt very hopeful about this trial. I readily accepted and signed up to the PRISM trial in 2019.
Since I started on the trial, each scan has seen a reduction in the tumours. My latest scan, in January 2021, was stable with no evidence of disease relapse. To hear that news was incredible! I owe so much to The Royal Marsden. The research and clinical trials undertaken at the hospital are fantastic."
Sign up to The Banham Marsden March at Home on Sunday 23 May and help change the lives of more people like Valerie.
*Please note if you were originally signed up to our in-person event, which has sadly been cancelled, you should have already received your t-shirt and also your cap, kindly provided by our sponsor Banham. You will also receive a medal regardless of how much you are able to raise.
Read more stories on our blog