Introducing The Oak Cancer Centre
Help us build hope, brick by brick.
Building the Oak Cancer Centre
The Royal Marsden gives hope to patients and their families every day. But the face of cancer research is changing and the number of people who need our help grows year by year. That's why we're building the Oak Cancer Centre.
The Oak Cancer Centre will speed up the translation of world-leading research into breakthroughs in treatment and care, giving hope to cancer patients like Annie.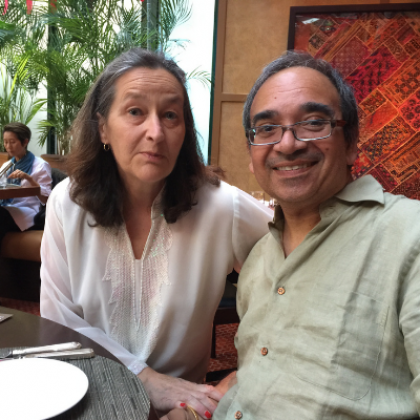 Annie was diagnosed with kidney cancer in 2015. She was referred to The Royal Marsden and had surgery to remove her left kidney. 
The first scan, three months after the operation, revealed that the cancer had started to spread to Annie's lung. On hearing this news, her first thought was for her husband, Jasbir. Annie has been Jasbir's carer since he suffered a stroke in 2013.
The spread to the lungs was considered very small, and as Annie felt well and was putting on weight it was decided she would be monitored and receive regular scans. The cancer grew gradually and in March 2017 Annie began to cough up blood; indicating that the cancer had spread further.
Annie says, "I was given a couple of options, chemotherapy being one, but I had heard it would only work for so long. There was also a second option, to be part of a new immunotherapy trial called ADAPTeR and be treated with the drug, Nivolumab."
After finding out more about the trial - one of a number of immunotherapy trials conducted at The Royal Marsden and supported by The Royal Marsden Cancer Charity - Annie decided to sign up.
"Immunotherapy sounded hopeful," says Annie. "I was very keen to try this new treatment and I started the trial in May 2017. Within eight weeks scans showed that the growth on the lung had reduced quite a lot. I also had no side effects. Everything had worked so well that it was quite incredible. It was such a positive result and a relief that I burst into tears.
For a couple of years my scans remained stable, but they had started to see a small progression in my lungs. I had radiotherapy in 2019 which stabilised this and stopped the growth. However, recent scans have shown growth in my lungs once again and, whilst I feel well, the drug is no longer working for me. After almost four years I have been taken off the trial and I've now started a new treatment, a targeted chemotherapy drug called Cabozantinib. I hope to be able to join another trial in future. I am always very keen to try new things.
I would encourage anybody to take part in a trial. Though the success of clinical research may vary, participation is exactly how advances in cancer care are made. That is why the Oak Cancer Centre will be so crucial to further understand this disease and develop new treatments. I am so glad to have participated in the ADAPTeR trial and, hopefully, helped The Royal Marsden's oncologists make new discoveries in the treatment of kidney cancer. My next treatment brings a new chapter and I hope it will be as successful."
Sign up today for your FREE Fundraising pack
We urgently need your help to raise the final £5million to open the Oak Cancer Centre.
Sign up for your free fundraising pack today, which is full of ideas and everything you need to organise your fundraiser. Help us build hope, brick by brick.
Read more stories on our blog