National Siblings Day – a perfect match
This National Siblings Day, we share the story of Kareece Stone-Small who received stem cells from her twin sister, Kameeka.
For more than 45 years, The Royal Marsden has been pioneering stem cell transplants (SCT – also known as a bone marrow transplant) in the treatment of blood cancers, and our Oak Centre for Children and Young People (OCCYP) supports more than 20 patients and their families through the intense process each year.
The specialist clinical team in the OCCYP has three paediatric transplant consultants, an advanced nurse practitioner, a clinical nurse specialist and a clinical fellow, supported by a multidisciplinary team of allied health professionals. The Charity is also currently supporting a research nurse to focus on opening clinical trials related to transplants within the unit.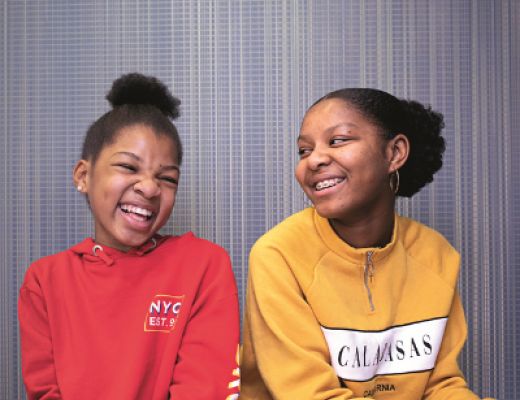 Kareece's story
In 2013, Kareece (pictured far left), now aged 16, was diagnosed with acute lymphoblastic lymphoma (ALL). But after two years of treatment at The Royal Marsden, and just as she was supposed to start secondary school, her mum Lorette was given the devastating news that Kareece had relapsed and would need an SCT. Fortunately, when Kareece was diagnosed, the family had been tested and Kameeka was known to be a sibling match.
Dr Caroline Furness, Consultant Paediatric Haematologist and Lead for Paediatric SCT, said: "As soon as a patient is identified as needing a transplant, we send off blood tests to establish their tissue type and, in parallel, test family members to see if a sibling match will be identified. A sibling match is usually the preferred donor."
Kareece's mum Lorette said: "In a way, we were the lucky ones as I knew Kameeka was a good match. Not everyone has that, which must be awful. I am forever grateful to her because without her, we would not have Kareece."
Family-centred care is at the heart of the service provided at the OCCYP as they offer support to children and their families. It is this level of care, combined with the hospital's SCT expertise, that has led to Kareece's recovery.
Lorette said: "She is doing brilliantly now. She is possibly underdeveloped for her age, but she is here and alive. The team at The Royal Marsden were, and continue to be, amazing."
As for Kareece, she says she is grateful to her sister, but received more than just her twin's stem cells from the transplant. "Since the SCT, I can no longer eat peanuts, celery, or raw carrots – I managed to get Kameeka's food intolerances, which is weird!"
Please donate today to support our staff and patients, now and in the future.
Read more stories on our blog