New drug combination shows promise in ovarian cancer patients
Researchers at The Royal Marsden find new drug combination could be nearly twice as effective for some patients with advanced ovarian cancer as next best treatment
The RAMP-201 trial tested a drug called avutometinib alone and in combination with another drug called defactinib on patients with low-grade serous ovarian cancer (LGSOC). LGSOC is a rare form of ovarian cancer, which has a poor response rate to current treatments.
How does the drug combination work?
The avutometinib drug works by blocking specific proteins that help control the cancer's growth. Previous studies have shown that the drug can become ineffective over time as tumours become resistant to the treatment.
However, researchers believe avutometinib works more efficiently when combined with defactinib, which is designed to combat a protein that encourages tumours' resistance to drugs.
What do the results show?
Interim results from the RAMP-201 trial were presented at this year's American Society of Clinical Oncology Annual Meeting (ASCO). They revealed that 45% of patients treated with the drug combination saw their tumours shrink significantly.
This is almost twice as effective as a targeted drug called trametinib, available in England through the Cancer Drugs Fund, which has a response rate of 26% and is currently the best treatment for these patients.
Other approved treatment options available for patients with advanced LGSOC in the UK are currently limited to chemotherapy and hormone therapy, with response rates typically ranging from 0–14%.
The results also demonstrated that the drug combination is over four times more effective than avutometinib alone.
Dr Susie Banerjee, Consultant Medical Oncologist at The Royal Marsden and global lead investigator of the study, said: "These initial results could be fantastic news for women with LGSOC, indicating that a far more effective option than current treatments may be on the horizon. We hope this drug combination will one day become a standard of care for women with LGSOC."
RAMP-201 is a phase 2 study that follows the phase 1 FRAME trial, which tested the drug combination on a slightly smaller group of patients with advanced LGSOC. This trial was led by researchers from the Oak Foundation Drug Development Unit at The Royal Marsden and The Institute of Cancer Research, London.
"This trial has allowed me to live my life with barely any side effects"
After being treated for LGSOC in 2009, Christine Cull, 71, found out the cancer had returned in 2014. She was treated with chemotherapy and hormone therapy at her local hospital, along with surgery, but unfortunately her cancer was resistant to treatment. Christine was referred to The Royal Marsden where she joined the FRAME trial in August 2020 and has been treated with this drug combination ever since. Her latest scan results show no evidence of disease.
Cristine said: "My lowest point throughout this experience was in 2019 when my local hospital said there was nothing more they could do for me – it was horrible. My cancer had completely resisted chemotherapy and hormone therapy, and my team weren't able to operate again.
"My doctor referred me to The Royal Marsden which, as a specialist cancer centre, had the expertise to do another surgery. They did the surgery but unfortunately the disease started growing again in 2020. By this time, the FRAME trial had opened, and I was chuffed to be able to join. I have scans every three months and each time we've seen the cancer getting smaller and smaller. After finding out recently that the cancer is currently not even visible on scans, I felt relieved, amazed and so happy to be able to pass this good news onto family and friends."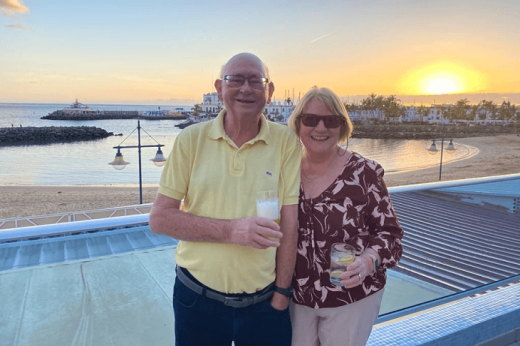 "The Royal Marsden means so much to me. The hospital gave me and my family hope when I thought my options were exhausted and, because of this trial, I'm able to live my life with my husband, three children and three grandchildren with barely any side effects."
Discover more inspiring stories like this on our blog.