A new targeted immunotherapy treatment for hard-to-treat cancers - Richard's story
Richard Condie, a bowel cancer patient at The Royal Marsden, shares his experience of joining a clinical study trialling a new type of immunotherapy which activates the immune system's 'natural killer cells' to attack tumours.
In 2015, Father-of-three Richard Condie, 64, was diagnosed with stage 2 bowel cancer at his local hospital and underwent surgery. However, after being referred to The Royal Marsden for further investigations, scans revealed the disease had spread to his liver. He has since taken part in three clinical trials at The Royal Marsden's West Wing Clinical Research Centre and is currently being treated at the Oak Foundation Drug Development Unit (DDU) with a new type of immunotherapy known as AFM24.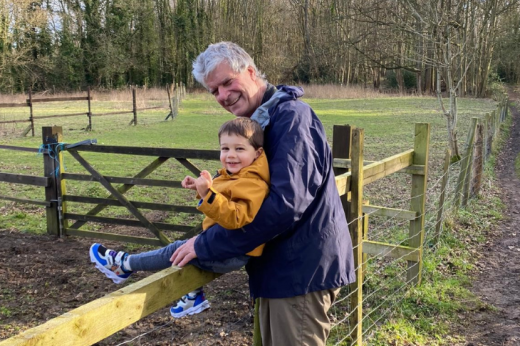 Richard said: "It was in January 2015 when I first noticed something was wrong – there was blood in my stool. I went to my GP who did a series of tests and they initially thought it could be haemorrhoids. I then had a colonoscopy. This confirmed I had stage 2 bowel cancer."
"After surgery, I was referred to The Royal Marsden for tests which showed the cancer had spread. I have been treated with various chemotherapies, an immunotherapy as well as two surgeries which all, for a period of time, worked. However, by January 2021, I was told I had run out of options. About five months later, I was really relieved that, thanks to genetic testing at The Royal Marsden, I was able to join the AFM24 trial."  
AFM24 is a new kind of immunotherapy which redirects the body's own 'natural killer cells' and engages them to kill tumour cells.
Early results from a phase I trial, which included researchers from The Royal Marsden and The Institute of Cancer Research, London, suggest it could offer potential against some solid tumours. The team found it showed signs of effectiveness in a third of patients with a range of advanced cancers that had stopped responding to standard treatment, including bowel, lung and pancreatic cancers. 
"I receive the drug as an infusion once a week. Out of all the treatments I've been given, this one has come with the least side effects. I'm able to work, live an active lifestyle and spend time with my wife, three children and four grandchildren."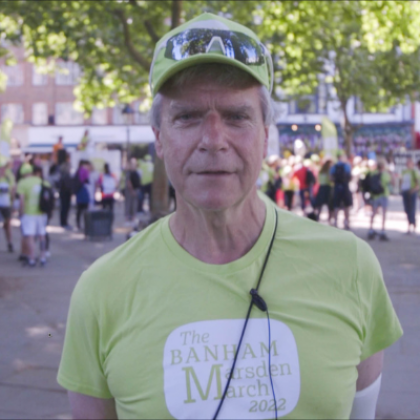 This year, Richard also completed The Banham Marsden March for the sixth time, tackling the 15-mile walk between the hospital's Chelsea and Sutton sites.
"I think it's important to raise as much as possible, as these funds help keep people like me alive. My scans are currently showing as stable and there is a slight reduction in the size of some of my lesions. I think The Royal Marsden is terrific and all the staff, from the cleaners and caterers to the doctors and nurses, are extremely helpful and compassionate, they always want to help and do the best for you." 
Leaving a gift in your Will to The Royal Marsden Cancer Charity could help fund pioneering research to give hope to more patients like Richard.
Discover more inspiring stories on our blog