Ovarian Cancer Awareness - Debbie's story
"I'm telling my story because I think it's important to raise awareness of ovarian cancer symptoms and that getting a cancer diagnosis does not necessarily mean end of life"
In the UK, ovarian cancer is the 6th most common cancer in women, with around 7,500 new cases diagnosed every year. Here, Debbie shares with us her experience of being treated at The Royal Marsden for ovarian cancer.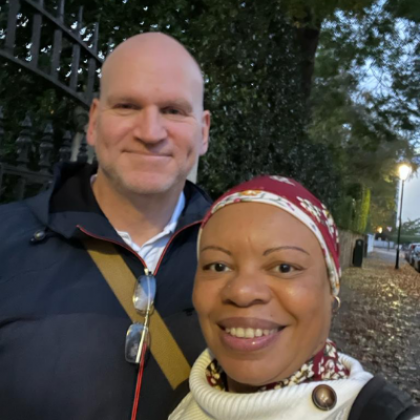 Debbie's Story
Debbie, 54, was diagnosed with stage 3 ovarian cancer in August 2021 after she started suffering from symptoms of feeling bloated and struggling to eat and drink.
"My partner Dan is Swedish and it has been our dream to buy a house in the Swedish forest. We were due to fly out to Sweden on the 5th August 2021 but a few weeks beforehand, I started feeling ill and suffering from bloating. I could barely eat a teaspoon of food and was struggling to drink properly.
"I decided to get checked out by my GP. My GP arranged some blood tests and the results the following week showed that my thyroid, kidneys and liver were all fine but my CA125 markers were alarmingly high. I had no idea what these markers were or what this meant but my GP told me these markers were linked to cancer and needed to be investigated further.
"Even after being referred to have a pelvic ultrasound. I still didn't think this would result in anything sinister. When they confirmed it was definitely ovarian cancer, it felt as though my whole world was crumbling. I told both my daughters that evening and tears were shed but we tried to remain calm.
Following her diagnosis, Debbie was referred to The Royal Marsden and put under the care of Dr Angela George where she started chemotherapy almost immediately.
Chemotherapy at The Royal Marsden
"When I got to The Royal Marsden, I met Dr Angela George who is absolutely amazing. She's compassionate, brilliant and just incredible – I almost hugged her when she said to me that although I had stage 3 ovarian cancer, they had devised a curative treatment plan for me which would consist of 6 cycles of paclitaxel and carboplatin chemotherapy and surgery. She told me we would take it step by step and that the teams were aiming to cure me. I felt so hopeful and so reassured.
"At this stage, my belly had grown even more, and I felt very uncomfortable. It turned out that the cause of this bloating was due to the ascites, a condition in which fluid collects in the spaces within the abdomen and this fluid was pushing down on all my organs. The first thing that happened when I got to The Royal Marsden after my consultation was to arrange the draining of this fluid. I walked into the hospital with very little mobility and came out 6 litres of fluid lighter and very mobile.
"On the 1st September 2021 I started my treatment and had 6 cycles of chemotherapy every 3 weeks. I loved being in the Medical Day Unit (MDU) in Chelsea for treatment and wore a different outfit, specially made by one of my sisters, for each treatment session. The chemotherapy was aiming to shrink the tumours as much as possible before surgery.
After her final chemotherapy treatment in December, Debbie went back to The Royal Marsden in January and underwent a full hysterectomy surgery to ensure any remaining tumours were removed.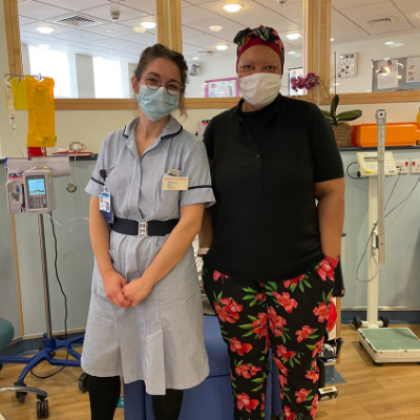 "It was major surgery, the first major operation I've ever had but I took my first steps out of bed less than 24 hours after my surgery.
"After being on the Critical Care Unit, I was moved to the Ellis ward to recover. I heard all about the donation through The Royal Marsden Cancer Charity to improve the ward – it definitely felt very bright and airy, it was a lovely place to stay and recover.
"I've recently had confirmation that they managed to remove all the tumours and the hysterectomy surgery went very well too. I'll be back at The Royal Marsden for more tests before moving onto my maintenance treatment and monitoring. So all in all, a really successful outcome. 
Raising awareness of ovarian cancer
"I'm telling my story because I think it's important to raise awareness of ovarian cancer symptoms and that getting a cancer diagnosis does not necessarily mean end of life. It's so reassuring to have the support of the wonderful team at The Royal Marsden. I could not be in better hands! I think The Royal Marsden is the most amazing place in the world, I cannot fault anything.
"I'll be 55 this month and I'm hoping that by the time my birthday comes round, I will have fully recovered from surgery and could potentially book those long-awaited flights back to Sweden, I'm feeling positive."
Find out more about the symptoms, diagnosis and treatment for Ovarian cancer on The Royal Marsden NHS website.  
Supported by The Royal Marsden Cancer Charity 
Ovarian cancer research at The Royal Marsden is supported by funding from The Royal Marsden Cancer Charity, The Lady Garden Foundation and The National Institute for Health Research.
Thanks to the generosity of our supporters, we are able to continue to fund the world class care and life saving research taking place at The Royal Marsden.
Find out more about how you can support us today.
Support the life-saving work of The Royal Marsden today