The Royal Marsden welcomes six Palestinian nurses
Through the NHS Refugee Nurse Support Pilot Programme, The Royal Marsden welcomes six talented Palestinian nurses. Among them are siblings Abed and Sara.
The Royal Marsden recently welcomed six talented international nurses to its workforce, with support from The Royal Marsden Cancer Charity.
The NHS Refugee Nurse Support Programme helps refugees who are qualified nurses to continue their nursing careers in the NHS, ensuring their crucial expertise and experience aren't lost to the profession. This gives them a chance to stay in their chosen career and safe from the fear of persecution in their home country.
The six Palestinian nurses who joined The Royal Marsden earlier this year had been living as refugees in Lebanon before coming to the UK. The Royal Marsden Cancer Charity has supported the programme by contributing to the first month's living expenses of each nurse.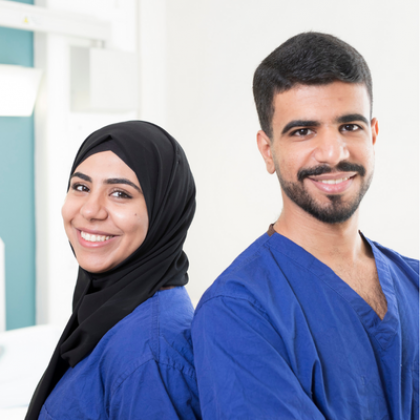 Among the six are siblings Abed and Sara
Abed, who worked in Accident and Emergency in Lebanon, was inspired to work in nursing after his sister Sara entered the profession. Abed and Sara both joined The Royal Marsden in April.
"We have six other siblings, so we miss them a lot, but they know how important it is for us to be here," Abed says. "We live together, which is good, and we are extremely grateful for the contribution from the Charity."
Moving to the UK gives Sara new options. "If I had stayed, I would never have had the opportunity to progress in my career," she says. "By being here, I hope I'm able to learn new skills and eventually gain management experience."
All six nurses completed a bespoke four-week course to prepare them for working in the NHS. Then they began roles as healthcare support workers at the hospital, with the aim of becoming registered nurses. A dedicated team at The Royal Marsden, including Nurse Recruitment and Retention Lead Helen Lavell and Practice Educator Peta Hicks, provided support to ensure the nurses felt welcome and settled.
The pilot programme is being delivered by NHS England in partnership with Liverpool John Moores University, RefuAid, the refugee charities Reset and Talent Beyond Boundaries.
Discover more inspiring stories on our blog