Pioneering treatment for advanced breast cancer
Researchers from The Royal Marsden have been involved in a seminal trial investigating a new pioneering treatment for advanced breast cancer.
The study analysed the impact of Tucatinib for patients with HER2 positive breast cancer, with and without brain metastases, who had already received previous treatment.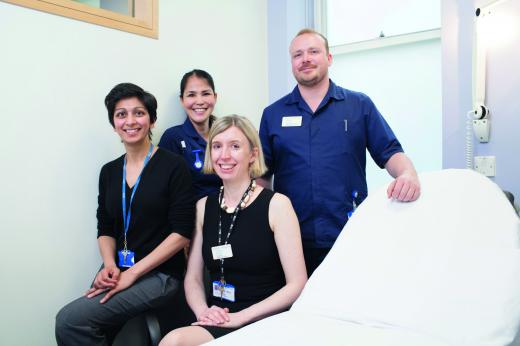 Co-author Dr Alicia Okines, (pictured above, front centre) Consultant Medical Oncologist at The Royal Marsden said:
We found that this drug was more likely to shrink the tumour, and saw evidence that it was able to stem the progression of the disease for longer than in the placebo group. For these women, where there is currently no next stage of targeted treatment, this is a significant finding showing genuine benefit. We also found that the combination of drugs with Tucatinib was significantly effective at controlling the disease where it had spread to the brain. Most importantly it showed women who received the Tucatinib lived a number of months longer.
The results were presented at the 2019 San Antonio Breast Cancer Symposium, the biggest conference dedicated to breast cancer in the world, and published in the New England Journal of Medicine, one of the world's leading medical journals.
Dr Okines, who was the only UK author on the trial, working with colleagues across the world, said:
At The Royal Marsden we're focused on collaborating with our international colleagues to carry out pioneering research. Studies such as this means we can develop more effective treatments for our patients, to help them live longer with fewer side effects.
Read more stories on our blog