Supporting our staff and patients through the pandemic
As the impact of the COVID-19 crisis continues to be felt around the UK, we have been proud to increase our funding for additional psychological support for patients and staff.
The Royal Marsden Cancer Charity has funded the psychological service at the hospital for many years now. We recognise being treated for cancer and caring for people with cancer has been emotionally challenging during the pandemic, so we wanted to ensure the hospital had the right support available for both patients and staff.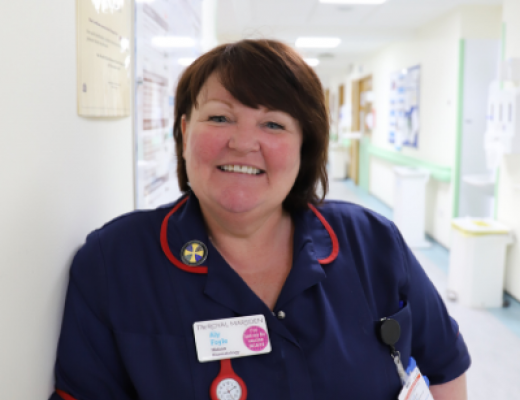 Working as a nurse during a pandemic
Matron Aly Foyle for Bud Flannagan spoke to Radio 4's Inside Health last month about her experiences working as a nurse through the pandemic.
She said: "It's been an emotional roller-coaster. Someone described it to me as the corona coaster and I think that's quite the right analogy. It's been very up and down.
"At the start there was an adrenaline rush of staff wanting to help, and as nurses that's what we do. It was a challenge as a cancer hospital as most of our patients are immunosuppressed and we became very protective of keeping people out of the hospital unless absolutely necessary. This then meant that it was us (and continues to be us) that are sat there with patients when they get bad news, not their wife, daughter or significant other. It is us that are with them when they have chemotherapy and us, or porters who have been fantastic, that sit outside when they had a scan.
"It's like we have a whole new dressing up box. Nurses wear many hats, but suddenly, we are not just a nurse but someone's mother, sister, or brother. As a profession we get sustenance from sharing but obviously with social distancing we can't sit together as a team and discuss our days and PPE means we lose a lot of our communication cues. Being able to call on psychological support is invaluable. If we are resilient, I think we can provide the best possible care for cancer patients."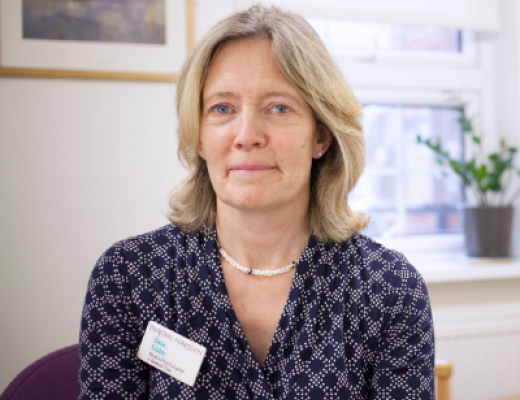 Psychological Support
Sara Lister, Head of Psychological Support said: "Covid-19 has had considerable impact on our patients for so many reasons, and throughout the pandemic we have really noticed that the demand for our psychological support services has gone up.
"Thanks to the money donated by The Royal Marsden Cancer Charity our team is entirely charity funded and the extra money in the past year from Bridgepoint to the Charity has meant we have been able to fund more staff to ensure that we can be there for anyone who needs us, staff and patients.
"We have also been able to implement the technology to support our patients remotely through video calls. This has been fabulous because it means patients stay safe and speak to us from the comfort of their own home. I recently contacted a patient who spoke to me from their bed, this was great for them meaning that although they were physically unwell, they didn't miss their psychological support appointment.
"It really has made a huge difference and patients have said how appreciative they are that despite everything going on we have still been able to be there for them."
Read more stories on our blog