Thank you to everyone who took part in The Banham Marsden March at Home!
Thanks to you, we're delighted that over £840,000 has been raised so far for the Oak Cancer Centre!
Congratulations to everyone who took part in The Banham Marsden March at Home over the weekend! We can't thank you enough for embracing the spirit of The Banham Marsden March and raising vital funds at such a difficult time.
Your support will help us build the Oak Cancer Centre
By raising money for your walk, you're helping us to build the Oak Cancer Centre. This brand-new centre in Sutton will give more patients, like Ian, access to our expert treatment and care, helping us be there for everyone who needs us.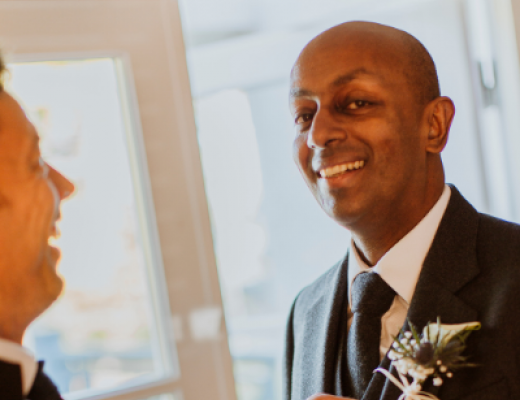 Ian's story
"I was diagnosed with stage 4 bowel cancer in April 2017. Tests showed it had also spread to my liver, and I was told I had months to live.  
I was referred to The Royal Marsden under the care of Dr Naureen Starling. I was given chemotherapy treatment which reduced the size and number of tumours so that I was able to have surgery to remove what remained. I live in Glasgow, so I regularly travelled down to The Royal Marsden for my treatment.
Just before lockdown, I received the good news that, for the first time since diagnosis four years ago, my scans had come back clear. I was so tearful and almost happier for Dr Starling. After all this time she could finally give me good news!
During the pandemic, I've been able to keep in contact with The Royal Marsden at home, through video consultations to receive results from my blood tests and scans. We also talk about my wellbeing and next steps.
Having this conversation virtually is great and really suits me. Being home and somewhere familiar and comfortable really helped. I have time to take in the news I receive, and my wife Zoe can be with me.
It usually takes me around seven hours to get to The Royal Marsden, so being able to stay home for the consultation and not worrying about travelling has made such a difference at what is already a stressful time."
Help us be there for more patients
The new Oak Cancer Centre will have a remote consultation suite with 10 rooms to facilitate virtual consultations, giving even more patients like Ian access to our expert treatment and care.
If you walked at the weekend, please keep sharing your JustGiving page and help to make the Oak Cancer Centre a reality so we can be there for more patients.
 
Read more stories on our blog