Three generations taking part in The Banham Marsden March
Alan shares his story and his experience of taking part in The Banham Marsden March multiple times with his family.
"As soon as I heard about The Banham Marsden March, I wanted to take part" says Alan. "I'd already had a number of treatments by then and had been looked after so well at The Royal Marsden."
"We call our team 'The Three Generations'. There is myself, my wife Caroline, our two daughters and three grandchildren. The whole family come together for the event every year, and everyone helps with the fundraising. Two of our grandchildren were coming to The Banham Marsden March before they were even born, as my daughter has even done the event while she has been pregnant. My youngest grandchild was only 3 months old when he did his first Marsden March!"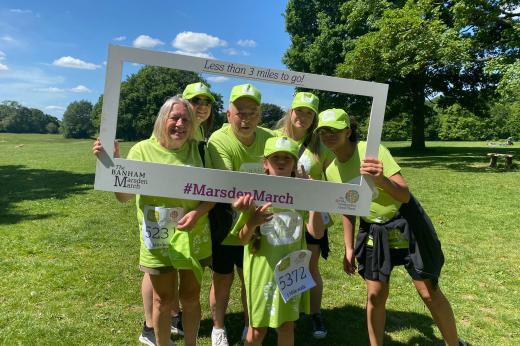 Alan, 71, has been treated at The Royal Marsden for prostate cancer for the last 17 years. During this time, he has undergone multiple cycles of chemotherapy.
"My wife has supported me all the way through my diagnosis and treatment. My daughters are so supportive too. The grandchildren give me cuddles and they're very loving and caring which helps me keep going."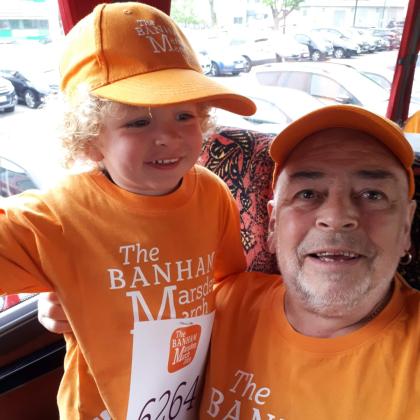 Not long before the family took part in the 2022 Banham Marsden March, Alan underwent radium treatment at The Royal Marsden in Sutton to target the spread of his cancer in his bones.
"The cancer had spread to my spine and right hip," says Alan, "At one point before I had radium treatment in Sutton I struggled to walk across the room. I made it my goal that despite how I felt, I really wanted to do the March. 2022 was a special year for us as we were taking part in our 9th Marsden March. I did struggle with the last 2 miles, but I managed to do it."
"It's such a lovely, supportive atmosphere, and clearly means a lot to everyone. So many people come out and give their time up to support - there's plenty of people on hand offering water along the route and making sure you're okay."
Together we walk
Experience the one-of-a-kind atmosphere as you walk alongside thousands of patients and their families, staff, and supporters of The Royal Marsden on this special day. If you can't join in person, The Banham Marsden March at Home offers the opportunity to choose your route and distance as you explore the best of your local area.
Find out more about The Banham Marsden March.