Why I March – Liz's story
Liz is planning to take part in this year's Banham Marsden March with some friends and family in the 'Caterham Convoy' team as a way of saying thank you to The Royal Marsden for the care and treatment her and her family received at the hospital.
58-year-old Liz worked at The Royal Marsden for 30 years in the radiotherapy team before taking ill health retirement in 2018. She was diagnosed with stage 3a ovarian cancer in 2014 and is currently being treated at The Royal Marsden. Both Liz's parents are also patients at The Royal Marsden.
From staff member to patient
"My connection with The Royal Marsden began many years ago. I started work in the Physics Department at The Royal Marsden in Chelsea in 1985, when I was just 21 years old. I moved to Sutton in 1988 to work as a Radiotherapy Physicist. I worked mainly in radiotherapy treatment planning, where my role involved deciding the best configuration of radiation beams to give optimal treatment to individual patients."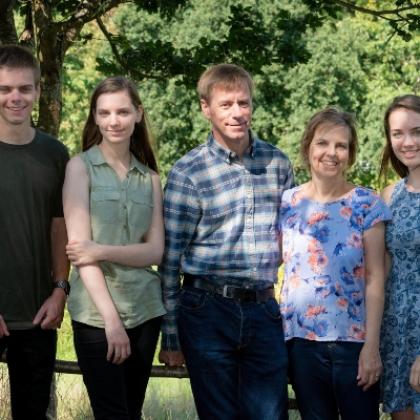 Liz was diagnosed with ovarian cancer at the end of 2014 and referred to The Royal Marsden. She started chemotherapy almost immediately before undergoing surgery in February 2015.
"My diagnosis was a complete shock. My symptoms could have been anything as they were so vague. I hadn't thought it would be ovarian cancer as previous ultrasound scans had shown nothing was wrong.
"I've been treated under Mr John Butler, the late Professor Martin Gore and am now currently under Dr Susie Banerjee. They've all been amazing, so reassuring, always talking through my options and next steps. After my surgery to remove the cancer in my ovaries and surrounding tissues, I recovered in the Critical Care Unit and on Ellis Ward and had the most fabulous team of nurses looking after me.
"Unfortunately, the nature of ovarian cancer is that it recurs. I've had six rounds of chemotherapy, plus a targeted therapy and I am almost permanently on treatment now. I started a second lot of targeted therapy last week"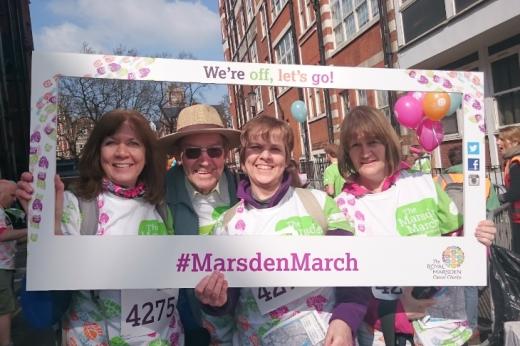 Research trials and new treatments
"Over the years I have tried some of the newer trial drugs that have become available and for about 18 months I was on a PARP inhibitor, a type of targeted therapy, which was very successful. In 2021 I took part in a clinical trial and received weekly treatment in the West Wing Clinical Research Centre in Sutton.
"I have just started a new experimental targeted drug combination as part of a Phase 1 trial in the Oak Drug Development Unit, also in Sutton.
"This is where being under the care of the experts at the Royal Marsden, comes into its own. The doctors are on top of everything with trials and innovative treatments, which is very reassuring. I'm very grateful for these opportunities and wouldn't want to be treated anywhere else."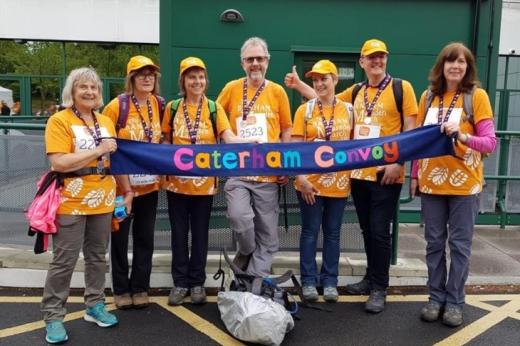 Family connections and taking part in The Banham Marsden March
"Before I was ill, I often thought I should sign up and do The Banham Marsden March, but I never quite got around to it. While I was recovering from surgery in 2015, it was around the time of the event so there was lots of talk about it around the hospital. At the time I could barely walk down the road because I'd had major surgery and I decided that next year I was going to do it - that was my aim.
"So the following year, in 2016, I took part in The Banham Marsden March for the first time along with a couple of friends, and also my Dad who was 80 at the time. We have a bit of a loyalty card at The Royal Marsden as my Mum has been treated on and off at the hospital for breast cancer for the last 30 years, and my dad is currently being treated for oesophageal cancer. All three of us have been on treatment at the same time before, and this is about to happen again!"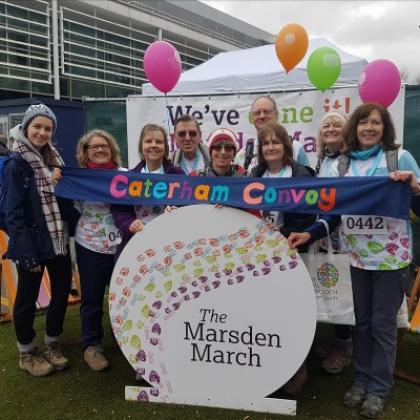 The 'Caterham Convoy'
Liz has been able to get a group of friends and family together to take part in The Banham Marsden March in the 'Caterham Convoy' team, all of whom have been affected by cancer in one way or another.
"My brother has recently joined us as his wife's sister was also being treated at The Royal Marsden and I've been joined by my sister, my son and daughter over the years as well. Last year, because of COVID, we did The Banham Marsden March at Home.
I was going through chemotherapy treatment at the time, but I managed 10 miles which I was really pleased with. Although sadly some in our group are no longer able to participate, others are ready to take on the challenge again this year."
It's such a good event to do for your own sense of achievement and the money raised for The Royal Marsden Cancer Charity is phenomenal. The whole atmosphere is brilliant, as is the organisation behind it, and I feel so proud to be a part of it. It's always such an amazing event.
Join the March
Want to join Liz on the Banham Marsden March?