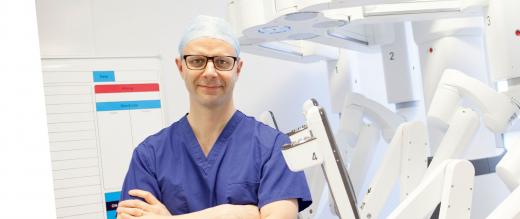 Mr Marc Bullock - trainee robotic surgeon
Four months ago Mr Marc Bullock joined The Royal Marsden as a Pelvic Exenteration Robotics Surgical Fellow, a unique programme working across the Gynaecological, Urological and Colorectal units.
This fellowship is exceptionally forward-thinking, and it's been an exciting few months as a surgical trainee at one of the leading cancer hospitals in the world.
Robotic technology at The Royal Marsden is shaping the future of surgery. Since April, as part of the Robotic Surgery Fellowship programme, funded by supporters of The Royal Marsden Cancer Charity, Marc has taken part in 50 operations, and spent over 50 hours training. Using the dual console of the da Vinci Xi, also funded by the Charity including a generous donation from the late philanthropist and loyal supporter Don McCarthy and his children, consultants can supervise trainees during live surgery, which has been paramount to gaining expertise.
"Over the last few months I've really advanced my operative competencies by working alongside a unique team, who have the sole aim of improving outcomes for patients with complex cancers. I'm looking forward to further advancing my skills in this area, and eventually applying them in my own practice in future."
Robotic surgery has several benefits for patients over open or keyhole surgery. Surgeons are able to conduct complex operations with greater accuracy. This is especially important for the treatment of hard-to-reach or previously inoperable tumours. Greater precision results in lower blood loss, less pain and smaller scars, which means patients recover faster and have shorter stays in hospital.
Your support means surgeons like Marc can train as future robotic surgeons and significantly improve the treatment of cancer patients.