Top training tips for The Banham Marsden March
Some familiar faces from around The Royal Marsden offer their top tips for training and walking in The Banham Marsden March.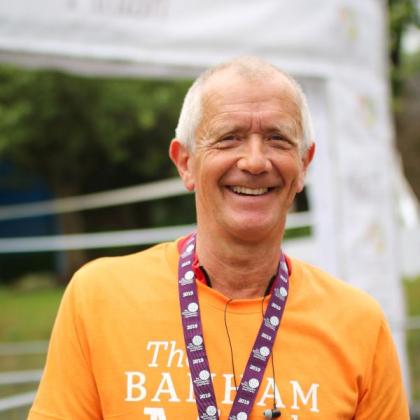 Bob - our superstar Porter 
You may recognise Bob, who has been a Porter at The Royal Marsden for nine years. He was also our first walker to cross the finish line in the 2019 event – getting back to Sutton just in time to start his shift!
"I have walked The Banham Marsden March for eight years now. 
It really is such a fun day and has such a lovely positive atmosphere. I speed walk it in three and a quarter hours and then spend the rest of the day at the finish line cheering the walkers - if I'm not on the rota to work! I love it when I see patients walking who I have helped around the hospital during their treatment. It really is so lovely to see them get over the finish line knowing what they have been through."
Bob's top tip:
Keep active in the week's leading up to the event to get yourself warmed up to walking for longer periods of time. I always think about the reasons why people are taking part as a way to motivate myself to the finish line; it's humbling to know so many people are supporting the hospital which I work in.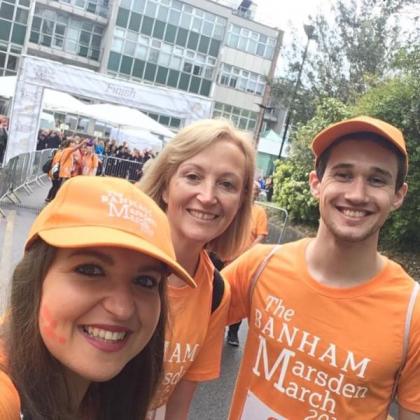 The Physio team 
Kath, Gemma and Adrian from the physiotherapy team took part in The Banham Marsden March last year, and have got some top tips for supporters joining the event in May.
The physiotherapy team support patients with managing symptoms of their cancer and treatment, help patients to maintain or regain independence and function during and following treatment and improve fitness in preparation for surgical or medical treatment.
Gemma's top tips 
Take the opportunity for selfies with your team at the various checkpoints
Make sure to look at everyone's written memories and stories attached to their t-shirts – they are so heart-warming and motivating.
Make sure you are wearing comfortable shoes that you have worn in a little!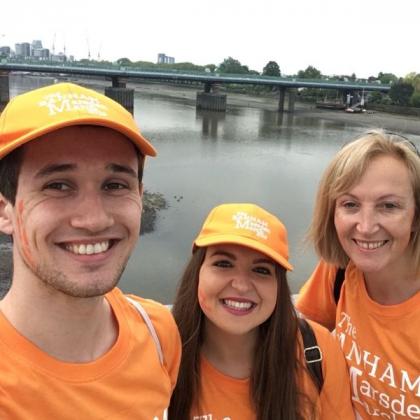 Kath's top tips:
Try training with a 'buddy' or join a local walking group to help get you ready.
Getting into the habit of stretching properly afterwards is also really helpful – this is a fantastic work-out for body and mind!
Adrian's top tips:
Focus on increasing the time spent out walking, particularly if you are finding it difficult to increase the distance e.g. week 1 = 30 mins, week 3 = 50 mins, week 5 = 70 mins etc. and then try to add some intervals of faster walking during the long walks.
Practice walking in all weather conditions as you don't know what the weather will be like on the day.
Also, remember to smile – as fewer muscles are needed to smile, it therefore saves energy and keeps you positive!
Fancy getting involved?
There is still time for you to sign up for The Banham Marsden March 
Denise - getting everyone past the finish line 
Denise has been involved with The Banham Marsden March for every year since the event started in 2011! On five occasions, she has volunteered as our back marker, walking the full 15 mile route and helping to make sure our walkers make it to the finish line.
Denise's top tips:
My top tip would be to cut your toenails before you walk – the only injury I've ever had was because I'd forgotten to do this!
Training for The Banham Marsden March doesn't need to be intense. In the weeks before the event, I tend to aim for a few short walks and one long walk each week, gradually increasing the distance of my long walk each week.
Need more help?
Take our quiz to find out what kind of walker you are.