William's pioneering paediatric drug trial
William Blake, 11, was diagnosed with a tumour in his soft tissue in April 2018.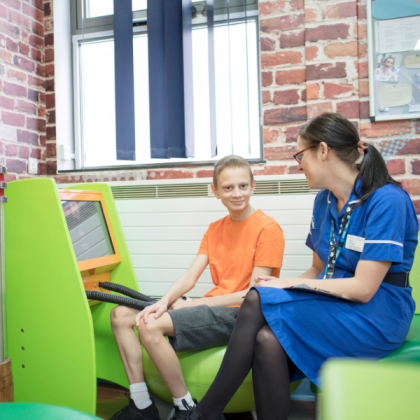 He was referred to The Royal Marsden's Oak Paediatric and Adolescent Drug Development Unit
William (left) had four months of intensive chemotherapy treatment for rhabdomyosarcoma (a tumour in his soft tissue).
Mum Amanda Robertson, from Acton, said: "We were told a trial was available at The Royal Marsden that would benefit him so we jumped at the chance. At this point the standard chemotherapy had only stabilised his disease. We were so happy there was another treatment option for us. It gave us hope that he would get better. By this time William had lost a lot of weight as the treatment was so severe and left him with no appetite. It was heartbreaking to see him so low.
In October 2018 he started on the Regorafenib trial, which is a targeted oral chemotherapy tablet. The trial has enabled William's cancer to be treated with fewer side effects and allowed him to lead as normal a life as possible. This has been fantastic for William both mentally and physically. We have been able to have him at home more of the time, which is so important for our family and he even made it to his Year 6 class trip."
There have been positive improvements with the disease while William has been on the trial and we pray that this will lead to other treatments that will cure his disease. Dr Lynley Marshall and her team of research nurses have provided invaluable care, attention, and support to William and us as a whole family. We are so grateful to everyone involved in the delivery of this trial.
The Oak Paediatric and Adolescent Drug Development Unit is funded by supporters of The Royal Marsden Cancer Charity, including Oak Foundation, and has the largest portfolio of early-phase paediatric clinical trials in the UK and one of the largest in Europe.
The unit runs numerous first-in-child and other early phase clinical trials of promising drugs for children and adolescents with cancer. These include trials of immunotherapy drugs and 'targeted' drugs, which target the genes that enable cancers to grow.