Recipes from The Urban Kitchen
Toral from The Urban Kitchen has kindly supplied us with delicious, healthy recipes for a three course meal. Ideal for a dinner party! Why not invite friends and family over and cook up these lovely recipes in exchange for donations to your Banham Marsden March.
About Toral
Toral is a nutritional scientist and chef who originally went to medical school to be an oncologist. After working in research, travelling the world and completing her MSc in Nutritional Medicine, her journey came full circle when she was diagnosed with breast cancer at 29. Her MSc thesis focussed on the importance of diet and nutrition in the prevention of breast cancer recurrence. She is the founder of The Urban Kitchen, a nutrition, health and food consultancy; and passionate about real food which is delicious and nutrient dense. Her seasonal and delicious food is not only packed with colour and flavour but uses evidence based science to optimise health and prevent disease. 
Don't forget to sign up
If you have not already, sign up to take part in The Banham Marsden March today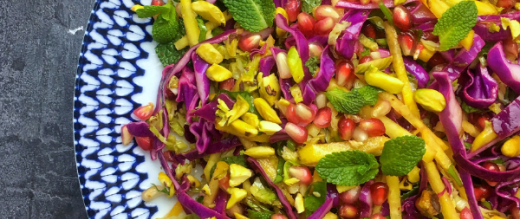 Starter- Rainbow Christmas slaw
This seasonal slaw is full of colour and range of antioxidants, important for health as they prevent or slow damage to cells caused by free radicals. It's a tasty way to include Brussels sprouts as they still have plenty of crunch. I've gone for a Middle Eastern flavour – you can pair this slaw with leftover turkey or smoked salmon, grilled halloumi, any fish or just on its own!
Ingredients (serves 4)
500g red cabbage/ 2 tbsp apple cider vinegar/ 150g Brussels sprouts, trimmed/ 200g yellow beetroot/ 1 tsp cumin/ 1 tsp olive oil/ 1 clove of garlic, crushed/ 1 tsp za'atar/ 100g pomegranate seeds/ 75g pistachios, roughly chopped/ 15g flat leaf parsley/ 15g mint leaves/ Juice of 1 lemon/ 50ml extra virgin olive oil
Finely shred the cabbage, taking care to remove the inner core, and mix with the apple cider vinegar.
Finely slice the Brussels sprouts.
Heat the olive oil in a pan, and add the cumin seeds when hot.
Add the Brussels sprouts and stir fry for 2 minutes. Add the garlic and cook for a further minute. Allow to cool and stir in the za'atar.
In the meantime, peel and julienne the beetroot into fine matchstick batons.
Mix the julienned beetroot, red cabbage and cooked Brussels sprouts.
Roughly chop the flat leaf parsley and mix with mint leaves and the rest of the slaw.
Mix the extra virgin olive oil and lemon juice, and season and mix into the slaw.
Dress with the pistachios and pomegranate seeds before serving.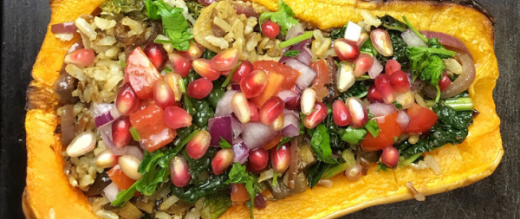 Main- Stuffed spiced squash with tomato and pomegranate salsa
This fantastic main course can be made in advance and is stuffed with caramelised onion, chestnut and Cavolo Nero rice mixture. I've used smoked garlic to give this an extra layer of flavour, and then topped the baked stuffed squash with the zingy salsa. The rice mixture could be served with some spiced chicken, lamb or salmon skewers. Alternatively, you could add feta to the mixture before baking. If you can't find smoked garlic, use black garlic or ordinary garlic.
Ingredients (serves 4)
For squash
2 butternut squash, cut lengthways into halves and deseeded/ 2 tbsp olive oil/ 2 red onions, peeled and finely sliced/ 2 tbsp olive oil/ 1 lemon/ 1 small orange or satsuma/ 150g cooked chestnuts, sliced/ 200g Cavolo Nero, roughly chopped/ 150g of mixture of brown and wild rice/ 1 cinnamon stick/ 1 tsp cumin seeds/ 2 cloves of smoked garlic, finely sliced/ 1 tsp ras el hanout
For salsa
Half a red onion, diced/ 100g baby plum tomatoes, diced/ 75g pomegranate seeds/ 10g flat leaf parsley or coriander, finely chopped/ Juice of half a lime/ 20ml extra virgin olive oil
Preheat the oven to 180c/ 375c/ Gas Mark 4.
Lay the butternut squash halves on a lined baking tray and bake for 30min.
Heat 1 tbsp olive oil in a medium pan, and when hot, add the cumin seeds and cinnamon stick. Saute for 30 seconds.
Add the rice and fry for 1 minute. Pour in 500ml of hot water and bring to the boil.
Reduce the heat to medium low and cover with a lid, and simmer for about 35 to 45 min or until cooked through.
Meanwhile, heat 1 tbsp olive oil in a shallow frying pan over a medium heat.
When hot, add the sliced red onions and gently cook for 15 minutes until caramelised.
Add the sliced smoked garlic, and saute for 2 minutes.
Add the chestnuts and cook for a further 2 minutes.
Grate the zest of the lemon and orange into the chestnut mixture,
Add the chopped Cavolo Nero and ras el hanout for 3 minutes.
Squeeze both the lemon and the orange or satsuma into the rice mixture.
Season well.
Scoop out some of the baked squash and reserve.
Fill the baked squash halves with the rice mixture.
Match the squash halves and put together and tie with string.
Bake for a further 15 minutes.
For the salsa, mix together all the ingredients and season.
Separate the cooked stuffed squash halves and top with the salsa before serving.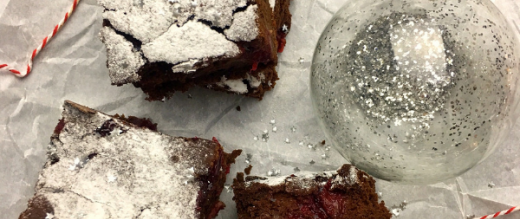 Dessert- Chocolate and cranberry cake
Cranberries are synonymous with the Christmas season and underused in desserts. The juicy tart taste cuts through the rich dense chocolate cake to make a dessert that vegans and non-vegans can all enjoy. The recipe makes at least 20 squares, so plenty to share the next day over a cup of tea.
Ingredients (makes at least 20 squares)
360 ml unsweetened almond milk/ 2 tsp  apple cider vinegar/ 200g apple sauce/ 120 ml strong coffee/160 ml melted coconut oil/ 100g dark chocolate/ 4 tsp pure vanilla extract/ 325g self raising flour/ 250g caster sugar/ 100g unsweetened cocoa powder/ 300g cranberries/ 4 tsp brown sugar
Mix the almond milk with the cider vinegar, and allow to curdle slightly to create a vegan buttermilk.
Heat a pan and add the cranberries, 2 tbsp water, brown sugar and 2 tsp vanilla extract. Cook for 5 minutes until the cranberries are burst. Allow to cool.
Melt the chocolate and the coconut oil over a bain marie until melted.
Add the apple sauce, strong coffee and remaining 2 tsp vanilla extract to the curdled almond milk and mix well.
When the chocolate and coconut oil are melted, mix well and when cooled, add to the almond milk mixture.
Preheat the heat oven to 180c/ 375c/ Gas mark 4.
Line a deep baking tray (approx. 20cm x 16cm) with parchment paper or brush with oil.
Mix the caster sugar and self raising flour with the chocolate and almond milk mixture until there are no lumps- use a hand mixer or stand alone mixer.
Pour in half the cake batter into the lined tin.
Top this batter with a layer of cooled cooked cranberries.
Pour over the remaining cake batter over the cranberries and ensure they are covered.
Bake for 45 minutes or until a skewer comes out clean.
Allow to cool and decorate with icing sugar and edible glitter.
Sign up today
Spaces on The Banham Marsden March are limited! Sign up today to secure your place.