2024 TCS London Marathon
Be part of the most famous race in the UK. Running the London Marathon is one of those experiences you will talk about for years to come and you'll get fantastic support all the way.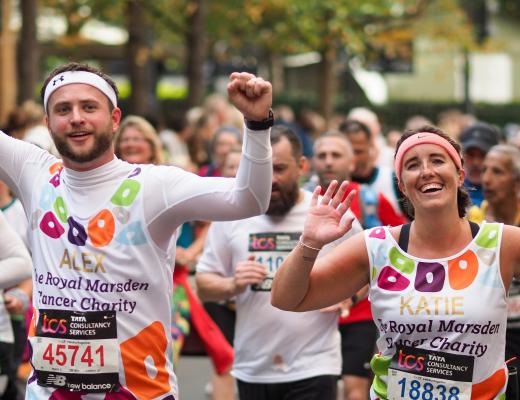 Event type
Run / Marathon
Fundraising target
£2000.00
We have now allocated all of our charity places for the 2024 event! However, we are operating a waiting list so if you would like to be added to it, please apply below or email [email protected] for more information.
The legendary London Marathon has been going since 1981 and is held every spring, taking runners from starts in Greenwich and Blackheath, winding around the East of London and following the route of the Thames through to the final high-drama finish in The Mall to enormous and super-enthusiastic crowds all the way.  
The route takes in Greenwich park, the Cutty Sark, Wapping, Tower Bridge, the Tower of London, the London Eye and the Houses of Parliament among the many iconic experiences for runners and their supporters alike.  
If you join Team Marsden we'll be with you every step of the way to help you through training and fundraising, providing a running vest, fundraising guides and one-to-one support throughout your whole running journey.
If you're interested in joining our team, then get in touch today, apply for a place below or call us on 0208 661 3391.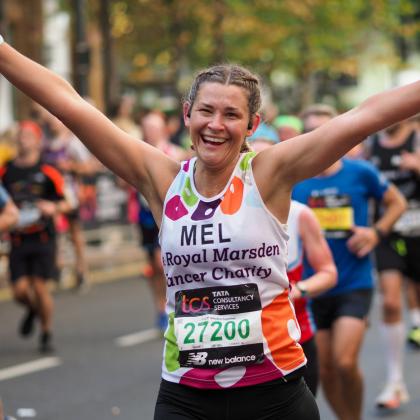 Team benefits
As part of our London Marathon running team you will receive:
a fundraising pack with runners' sweepstake and sponsorship forms
a t-shirt or running vest
pre-event support - welcome evenings, training mornings and group runs
on-the-day support - cheering points around the route and a post marathon party, with massages and food 
dedicated fundraising support and advice
If you're thinking of running for us and want access to qualified trainers as well as the chance to chat with other #TeamMarsden runners, check out our runners Facebook group. 
Terms and Conditions
1. I understand that completing this form does not guarantee my place in the event, but I will be contacted separately if my application is successful.
2. If accepted, I agree to pay The Royal Marsden the registration fee of £50 to secure my place. Payment will not be taken if my application is unsuccessful. Registration fees are non-refundable and cannot be transferred to another event of product or person.
3. I understand that if accepted for a Royal Marsden 2024 TCS London Marathon place, I am undertaking to raise at least a minimum of £2,000 in sponsorship (excluding Gift Aid), all of which will go to The Royal Marsden Cancer Charity.
4. I confirm that I will be 18 years of age by the date of the 2024 TCS London Marathon and that, to the best of my knowledge, my general state of health and fitness is good and I take full responsibility for my training.
Already got your own place?
Have you been lucky enough to receive a ballot place in London Marathon and would like to use it to be part of Team Marsden? Just get in touch to let us know and we will get you on board!
Register your interest today