Charity supporters fund second CyberKnife
The Royal Marsden has a brand new CyberKnife machine which has been funded by supporters of The Royal Marsden Cancer Charity. This new machine will enable even more patients to access the very latest technology for radiotherapy treatment.
This pioneering piece of equipment can deliver radiation to patients with pinpoint accuracy, meaning less healthy tissue is damaged during treatment and fewer treatment sessions are needed.
Based in Sutton's radiotherapy department, this is the second CyberKnife to be operational at the hospital. CyberKnife is a non-invasive robotic radiotherapy system and patients at The Royal Marsden will now be able to benefit from treatment on the newest model of this state-of-the-art machine.
Using a robotic arm, CyberKnife will be able to deliver larger doses of precisely targeted and advanced stereotactic radiotherapy technology to moving tumours. It will deliver treatment faster and more effectively than ever before, offering a quality of life improvement for patients for whom this treatment is an option. The CyberKnife's robotic arm can be positioned at almost any angle, so it's also ideal for treating hard-to-reach tumours, including brain, spinal, lung, neck and prostate cancers.
Access to this latest CyberKnife model should result in more efficient and effective treatment planning, meaning more targeted treatment and shorter scanning times for patients.
The Royal Marsden Cancer Charity funded the first CyberKnife machine in Chelsea in 2011, making The Royal Marsden one of the first NHS hospitals in the UK to install this machine and offer this technology which has since treated nearly three thousand patients.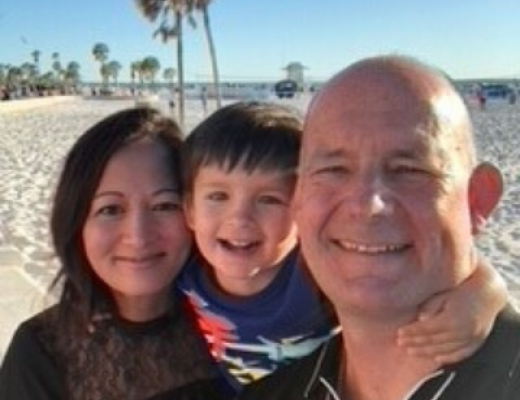 Richard's CyberKnife treatment
One of those patients is 59-year-old Richard Cotter who was diagnosed with lung cancer in 2014 and treated at The Royal Marsden. Later three tumours were discovered in his brain. He has received CyberKnife treatment three times in Chelsea. Richard said: "CyberKnife is a phenomenal development and has saved my life. I had my third CyberKnife treatment in 2016 resulting in two of the tumours disappearing completely and the third shrunk and is inactive. We are now four years later, and I haven't needed any further treatment.
The team are beyond world class and have been incredibly supportive and reassuring all the way through. I have total respect for them all.
When I was first diagnosed in 2014 my wife was pregnant with our first son and I wasn't sure I would make it to see his birth. A month ago, we celebrated his 5th birthday. That is why I am The Royal Marsden's number one fan."
CyberKnife has been the focus of international research including the PACE-B trial. Recent results from the PACE-B trial suggested that advanced radiotherapy technology could safely deliver curative treatment for some prostate cancer patients in just one or two weeks. Led by Dr Nicholas van As, Medical Director and Consultant Oncologist, researchers delivered SBRT with the CyberKnife machine to provide higher doses of radiation to patients over one to two weeks.
Read more stories on our blog