New Head for the Ralph Lauren Centre for Breast Cancer Research
Professor Mitch Dowsett has stepped down as Head of the Ralph Lauren Centre for Breast Cancer Research which was opened in 2016 thanks to funding from supporters of The Royal Marsden Cancer Charity, including a generous donation from Ralph Lauren. Professor Nicholas Turner, Consultant Medical Oncologist, has been appointed as the new Head of the Centre.
Professor Dowsett has worked at The Royal Marsden for over 30 years and is acknowledged as one of the world-leaders in breast cancer research. His work has led to changes in diagnosis and treatment which have advanced breast cancer care for women across the world.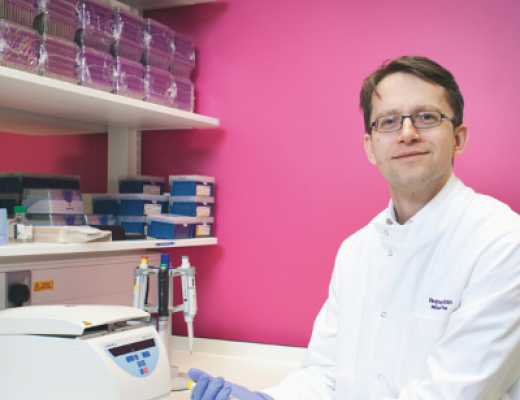 Professor Turner, who has been at The Royal Marsden since 2008 and has been working closely on projects within the Centre in recent years, will bring his expertise to continuing and expanding its work in the years ahead.
He is Chief Investigator of a number of national and international trials of precision therapy in breast cancer. His research interests include the development of new therapies for breast cancer and using liquid biopsies to deliver more precise treatment for breast cancer.
Professor Dowsett said: "Professor Turner is a truly world leading clinician scientist and I can think of no more able or more appropriate appointee to continue and extend the work of the centre into the personalisation of breast cancer therapy."
A key trial taking place in the Centre, led by Professor Dowsett is POETIC - the largest trial in the world in hormone therapy prior to surgery, with 4,500 patients, involving the analysis of over 25,000 blood and tissue samples. The Centre will soon begin to receive tissue samples from a further 5,000 patients from around the UK for the follow-up POETIC-A trial.
Testing for Covid-19 will also take place in the Centre, thanks to continued support from Ralph Lauren. A new piece of equipment has been installed in the Centre to support patients during and beyond the pandemic. This was made possible thanks to a United Way Worldwide grant to The Royal Marsden Cancer Charity, on behalf of the generosity of The Ralph Lauren Corporate Foundation. 
Read more stories on our blog