Donkey trekking for The Royal Marsden Cancer Charity
In June 2021, Murray set off on a donkey trek through the Basque Mountains in northern Spain to raise money for The Royal Marsden Cancer Charity, raising an incredible £1,254
As a travel writer, I found myself with little work during the pandemic. But I did get the opportunity to fundraise for The Royal Marsden Cancer Charity through a donkey trek in northern Spain.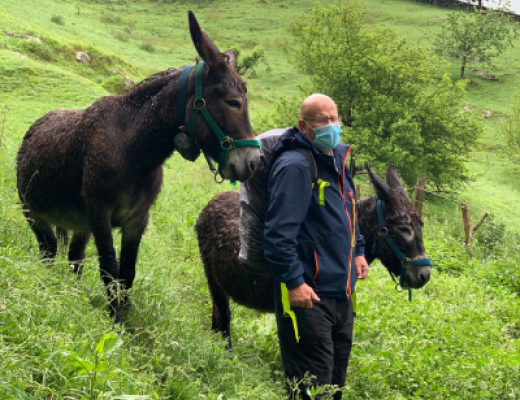 Why The Royal Marsden Cancer Charity? 
My partner, Sara Lister, is Head of Pastoral Care and Psychological Support at The Royal Marsden, so I know how dedicated the hospital staff are and am constantly amazed at their professionalism and commitment. Together, Sara and I did a sponsored walk a few years ago for The Royal Marsden Cancer Charity, so this seemed like another golden opportunity.
Preparing for the trip
I set off to cross a mountainous region in northern Spain – the Basque Mountains and the Sierra Cantabria – in early June this year, accompanied by two sturdy donkeys. I was delighted when a contact put me in touch with Tati Gamboa, a man who leads small group tours with his donkeys. 'No need to carry my own backpack' was my first thought.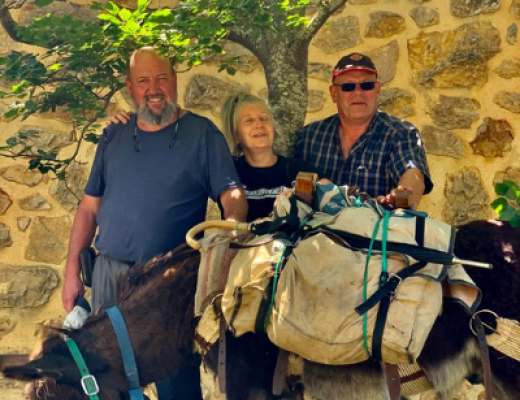 Donkey trekking through Spain
We had to delay our start due to an electrical storm, but the two donkeys – Gaspar and Roque – were fearless, maintaining a good pace as we climbed to heights of 1,300 metres on daily stages of up to 30km. I soon got to know them: Gaspar was a reliable leader, while Roque skulked behind, always on the lookout for an opportunity to munch some grass or snaffle a tasty-looking tree branch.
And Tati the 'donkey-minder' was a real character. I admired him for keeping himself constantly hydrated, until I realised that his leather 'water'-bottle was actually filled with (and frequently emptied of) red wine! But accompanied by Zoilo the dog (our self-appointed Head of Security), we made it across the mountains, attracting huge attention from the Basque TV, radio and printed press.
There were a lot of smiles on children's faces as we passed through remote villages. For that joy, the publicity and the generous donations of family and friends, I must give the credit to the donkeys!
Helping a worthy cause
At time of writing, I am still in Spain. Gaspar and Roque are enjoying a well-earned rest up in the high pastures of the Basque Country. I have met my modest fundraising target, and it is a real privilege to help such a worthy cause. Some of The Royal Marsden staff who are complete strangers to me have donated, which is wonderful – thanks to them all.
Visit Murray's fundraising page.
Read more stories on our blog